---
Ratings
6.4
5.1
---
Series Details
Seasons: 11
Total Episodes: 243
Creators: Brenda Hampton
Networks: The WB
Status: Ended
First Air Date: Aug 26, 1996
Recent Air Date: May 13, 2007
Run Time: m
In Production: No
Original Language: English
Age Rating: PG
Website: Link
Production Companies:
---
Genres
---
Keywords
---
People Rated This
None of your friends have rated this title yet
Synopsis
No Synopsis for this season yet
---
Episodes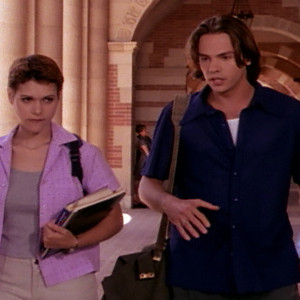 Episode 1
21 September 1998 - It Takes Two, Baby
In the third season-opener, Annie is feeling a little depressed since she's 3 months pregnant. Ruthie is pretending to feel a little pregnant herself. Lucy is following the dating advices from 'The Rules' book she has. Matt moves in an apartment with three attractive girls. Eric is looking for the perfect 20th anniversary plan for Annie. Mary gets a lot of attention from guys, which makes Lucy jealous. Although, one of Mary's 'guy' friends asks Lucy out. Matt finally comes back home because of girl problems he was having with his new roommates. Simon's girlfriend is acting a little weird. Eric and Annie tell the kids they're having TWINS!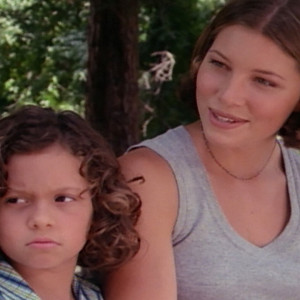 Episode 2
28 September 1998 - Drunk Like Me
Annie and the girls are fixing up an old car for Matt as his college present for him as he moves into a fraternity house. Simon is having a hard time living around the girls when fixing up the old car and needs to be around some male energy, especially after hearing from his mom that two more girls MAYBE on the way when she predicts the twins' sex. Meanwhile, a new woman at the church flirts with Eric. Lastly, Matt's friend almost dies after drinking too much for an initiation at a fraternity party and Matt quickly takes him to the hospital.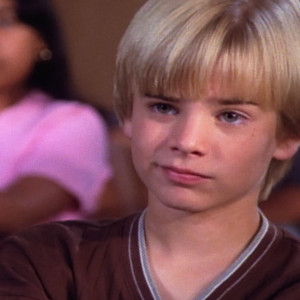 Episode 3
05 October 1998 - Cutters
Lucy is spending a lot of time with her new best friend, Nicole. They are both in the same biology class, and are both failing. Eric offers to tutor both of them. Matt is upset because a girl rejected him. He later learns she did that because she already has a boyfriend. Ruthie fails her math test on purpose so she can get more attention from her mother. Simon wants her to stop, and tells her he'll pay 50 cents for every good answer she gets on her next test. Ruthie gets all the answers right, so Simon has to pay her $20. Mary catches Nicole cutting herself in the bathroom. Mary tells Eric, who then tells Nicole's father. Eric gives him a card and a number to call so they can get help for Nicole. Nicole and her parent's are moving to Chicago for a couple of months, so she can follow therapy.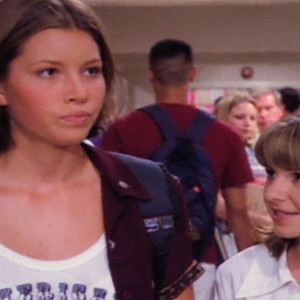 Episode 4
12 October 1998 - The Legacy
Simon sees his teacher push a man who was screaming at his son. He then feels guilty when he learns his teacher got fired. Annie takes piano lessons as her ""pregnancy project."" Meanwhile, Matt makes a move on one of his college teachers. It turns out he misunderstood her signals. Mary and her friends skip a boring class and get caught. Also, Lucy forgets her lunch in geometry class and finds her teacher eating it--- two days in a row. She and her friend Shelby then learn a good geometry lesson. Lastly, Ruthie has trouble finding the perfect instrument for music class.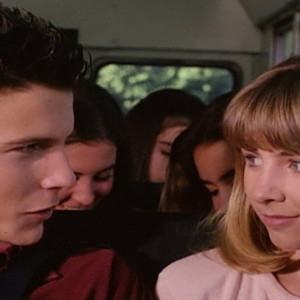 Episode 5
19 October 1998 - ... And a Nice Chianti
Eric is trying to cheer up a woman whose son died three years ago. She wants to meet the people who received her son's organs after he died. Mary got her driver's permit, but not everyone is enthusiastic to ride with her. Meanwhile, Lucy and Simon decide to take the bus. A freshman has a crush on Lucy and sits beside her, which makes his girlfriend jealous and angry with Lucy. Simon gets into some trouble with this tough guy who wants help with his homework. Also, a pregnant girl steals Matt's car and leaves Matt with her broken car, which happens to be stolen. She is running away from home because her parent's don't forgive her for getting pregnant.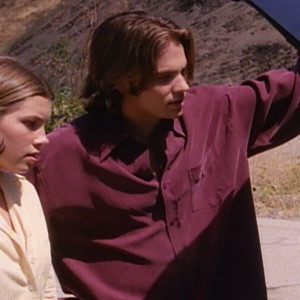 Episode 6
02 November 1998 - And the Home of the Brave
Annie's father, Charles is getting married to his girlfriend Ginger. The wedding reception is supposed to be at the Camden's house and Annie is the one in charge of preparing the menu. Annie isn't enthusiastic about the wedding and the reception. On her way to the grocery store, she meets a homeless veteran and invites him home. He is the one ending up preparing the menu since he was a chef for forty years. Also, Matt and Mary are taking a little road trip, which ends up being very long when they get a flat tire. Simon is spending the day with his new girlfriend Deena. Lucy is spending the day with Jordan, the guy she can now call her boyfriend. Lastly, Ruthie is feeling lonely, so she pretends her imaginary friend Huey is back the whole day.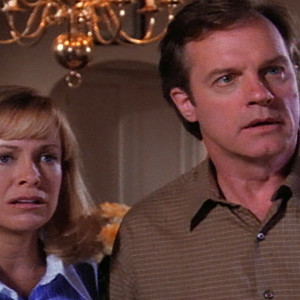 Episode 7
09 November 1998 - Johnny Get Your Gun
Ruthie wants the ""Booboom"" video game that her friend has and is walking around the house pretending she is dropping bombs which is annoying Annie a lot. Simon has a BIG problem at school when his girlfriend Deena tells him that her former boyfriend Johnny just got dumped by his girlfriend and might be coming after him so he could get back together with Deena. Johnny then threatens to shoot Simon the next day at school. Simon tells Eric this and tries his best to settle this matter leading to bad consequences on both sides as someone gets shot. Meanwhile, Matt introduces Mary to his friend Shana and her brother. He asks Mary out on a date, but has no idea that he has a BIG problem--- he is violent. Meanwhile, Lucy tries to be romantic with Jordan and wants to slap him after watching ""Gone with the Wind.""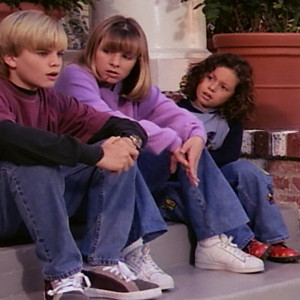 Episode 8
16 November 1998 - No Sex, Some Drugs and a Little Rock 'n' Roll
Eric's old Rock & Roll band has come to town for a small concert, although he is suspicious about their possible drug habit. The band is staying at the Camden home--- they have parked their trailer on the front lawn. Meanwhile, Simon starts to drink coffee and becomes very addicted. Lucy continues to be on the phone constantly talking to her boyfriend Jordan while Ruthie is constantly chewing gum. Also, Mary finds out that one of her friends from the basketball team, Diane, is taking natural pills to boost her energy and that everyone else on the team is taking them. Mary then decides to take a few pills herself when overhearing Matt in a conversation about his bottle of natural pills. Eric then yells at Matt when finding pills in his room. Matt says that he got it from a friend, but he didn't take any yet. Mary then tells her father that she got the same pills from her friend Diane. When Eric tries to talk to Diane and her father, they do not listen to him. Later that evening, while E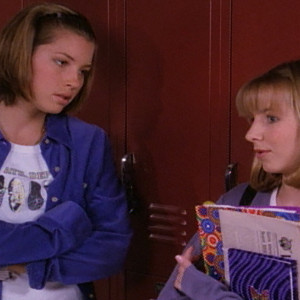 Episode 9
23 November 1998 - Let's Talk About Sex
Eric and Annie are taking prenatal classes--- for the sixth time. Annie helps two teenage girls get through their pregnancy while Eric helps the two teenage fathers deal with the news and finding a job. Simon is taking babysitting classes and gets his first job babysitting Ruthie, although it doesn't go quite the way he expected it to. Meanwhile, Mary is sneaking to a coed basketball sleep over. Plus, Lucy is thinking of having sex with Jordan to see if he's really attracted to her, but it blows in her face. Lastly, Matt has to do research on sex for his class and is having trouble over finding a topic..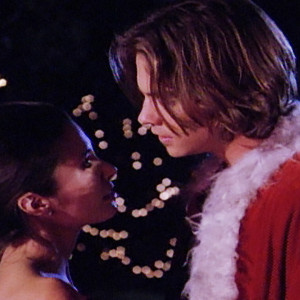 Episode 10
14 December 1998 - Here Comes Santa Claus
It's the Christmas season and Eric has his three oldest children doing charity work for the community. Mary and Lucy aren't enthusiastic about the charity work that Eric wants them to do. Mary is working in a soup kitchen while Lucy has to organize auditions for the ""Live Nativity"" at the church. Meanwhile, Eric has given Matt a well-paid job as Santa Claus at the mall. Also, Simon is in the spirit of wearing his VERY tight candy cane pajamas and wanting to put on lights inside the house since he's not allowed to do it outside alone. As a family ritual, each family member picks a name out of a hat of who to get for Christmas while Eric and Annie cheat. Before going on his family vacation, Jordan accidently gives Lucy a gift that was meant for his uncle's monkey (shoe shine-kit), but was supposed to give her a basketball signed 'I Love You'. Also, Mary meets a a guy, Carlos at the soup kitchen who doesn't have a place to stay for Christmas, so Mary invites him to stay over at their hous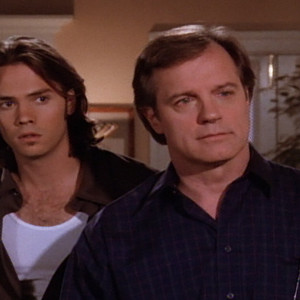 Episode 11
11 January 1999 - Nobody Knows...
Mary gets her driver's license, but can't parallel park. She cried during the test because she couldn't park, so the teacher passes her anyway. Meanwhile, Simon learns that his girlfriend Deena had leukemia when she was five years old, but went away. Although, every year she has to go for a check-up to make sure the disease didn't come back which worries the both of them. Also, Ruthie calls a woman who she thinks is a psychic and asks her if Deena is going to be all right. Lastly, Eric's sister, Julie is back in Glen Oak and she has a new job and is starting a life of her own now. Eric and Matt want to help her get settled in Glen Oak, but are trying to help a little too much.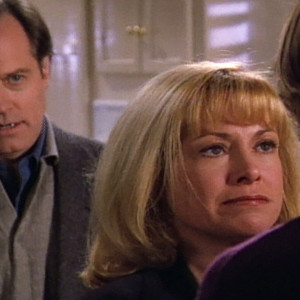 Episode 12
18 January 1999 - All That Jazz
Simon wants to buy the perfect gift for Deena because its their three month anniversary, but it ends up consuming his time which annoys his friend, Nigel, who's visiting. Rod (Lucy's ex-boyfriend) is spending time at the Camden's home because his mother died and doesn't want to face his father as he's angry with him. Heather is back in town, and she tells Matt that she's engaged. Meanwhile, Dr. Hasting's---the doctor who almost killed Matt when he was born, works at Glen Oak Hospital and Annie is not thrilled, especially with the possibility that he may deliver her twin babies. Mary tells everyone that she's back with Wilson, but it's not true. She made it up to get attention from guys. Lastly, Michael Towner, who hitted Mary with his car two years ago calls her.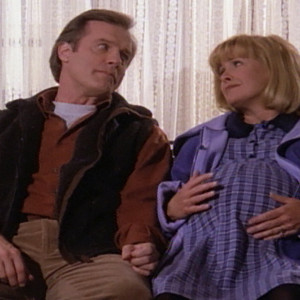 Episode 13
25 January 1999 - The Tribes That Bind
Lucy is spending the weekend at camp 'All By Myself'. It turns out everyone at the camp has to spend the weekend all by themselves without talking to anyone. Ruthie is angry with classmate Bobby Tripp because he keeps making fun of her since he accidently saw her underwear. Now, Ruthie decides to make him realize what he did was wrong by starting a war: Camdens vs. Tripps. The church's women group throws a baby shower for Annie. Eric and Matt have lunch with Morgan and John Hamilton. The manager of the restaurant doesn't serve Morgan and John their meal because he doesn't serve black people.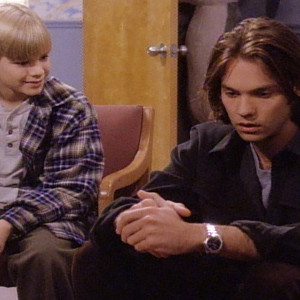 Episode 14
08 February 1999 - In Praise of Women
During a difficult labor, Annie asks Dr. Hastings for help. Lucy decides to break up with Jordan because she doesn't feel the same love for him as he feels for her. Simon continues to pray for twin boys. Happy is alone in the house causing some mess and trouble. Simon suddenly decides that he would ask his parent's if he could get his ear pierced. Matt is reluctant and scared about giving blood and also tries to calm everybody's tensions with the arrival of the babies. Lastly, Ruthie is the same as usual in this heart-warming episode; bad-mouthing the twins until they come.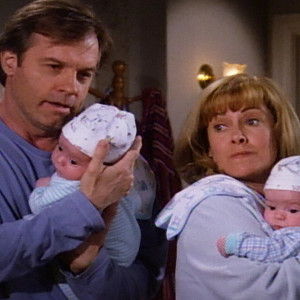 Episode 15
15 February 1999 - It Happened One Night
Samuel and David are home and won't stop crying. Matt gets a new job at the Dairy Shack as a delivery guy. Mary sneaks to the pool hall to meet Wilson while Lucy covers for her at home. Lucy ends up doing all the cleaning by herself. Mary hangs out with Jordan as Wilson arrives. Wilson is thinking of moving back to Glen Oak, but Mary realizes she doesn't have feelings for him anymore. Ruthie wants to run away from home because she doesn't get much attention as she used to. Annie gives Ruthie her baby book. Simon orders food from the Dairy Shack to check out Matt's new job. Matt is fired from his job and meets an old girlfriend, Shana.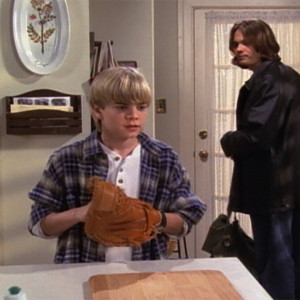 Episode 16
22 February 1999 - Paranoia
Eric suspects Lucy's ex-boyfriend Jimmy Moon is involved with drugs. Eric and Annie and the rest of the Camden family forbid Lucy to neither see nor speak to him anymore. Lucy does not listen to them and she gets a lot more than what she bargained for when trying to help Jimmy. Meanwhile, Ruthie tries to keep Matt and his new girlfriend Shana apart as she avoids telling Matt that Shana has been calling the house. Lastly, Simon tries out for the baseball team and uses Mary as a good reference, even though he stinks.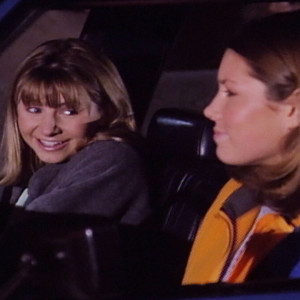 Episode 17
01 March 1999 - Sometimes That's Just the Way It Is
Eric counsels a troubled couple on the brink of divorce, Ted and Emily. Matt decides to join the Army without consulting his parents about it. Also, Mary and Lucy are desperate to get out of the house and later get into a car accident with Ted who was driving drunk when going out to get some more beer for his new apartment. Matt can't join the Army because he's not fully measured for the job. Also, Simon tries to find his red-lightning ring to get out of his bad luck as being the new middle child of the family now. He will even try chain letters to get out of it. Lastly, Ruthie tries her best to get peoples attention when their focuses are on the new babies.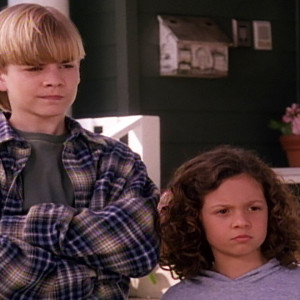 Episode 18
15 March 1999 - We the People
Moral outrage explodes in the community over an affair between a college president and a student at Matt's college. Simon and Ruthie go on a paper route, but some problems occur when Mr. Mallone does not want to pay the paper fee. Mrs. Hinkle tries to help Simon and Ruthie in their situation. Matt gets into a fight with some people at his school due to a disagreement of opinions with the chancellor's affair. Mary convinces Lucy to go on a date with the guy Mary SUPPOSEDLY smashed her car into.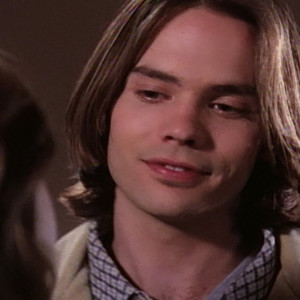 Episode 19
03 May 1999 - The Voice
Eric defends a custodian named Rudy from Simon's school who claims to be hearing messages from God and is forced into early retirement through the school board. Annie wants to cut loose for the evening, and does so with other fellow mothers. Ruthie encounters a chimp living in the Camden's tree in the backyard, but nobody in her family believes her when she tells them about it. Mary stays up babysitting for the twins when the parent's are out, and is ditched by Lucy.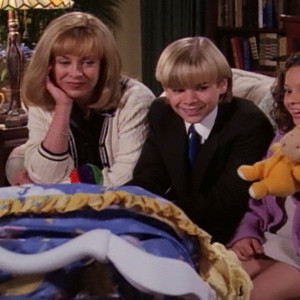 Episode 20
10 May 1999 - All Dogs Go to Heaven
Two parishioners entreat Eric to take their suffering dog to the vet to be put down. Matt catches Mary in a lip-lock with Michael Towner in a most unlikely place. When caught, Mary gets into a big fight with Matt because he's always intruding in her life. After a night of cooling off and a talk with Sgt. Michael's and each other (Matt and Mary), things go back to normal. Simon and Lucy double date together with birthday girl Deena and her older brother who is visiting. The dates are a success.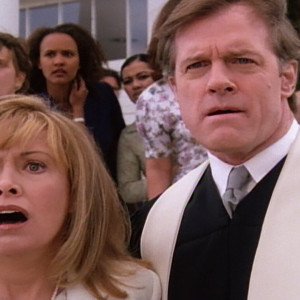 Episode 21
17 May 1999 - There Goes the Bride (1)
Eric worries about Matt as Heather's wedding approaches. Eric learns that his sister Julie is dating Dr. Hastings (the doctor who delivered the twins and almost killed Matt at birth) without telling him or the family. Also, Lucy and Simon are both in their awkward love triangle between all of their two best friends and lovers. Ruthie wants to be a bridesmaid and a bride at Heather's wedding.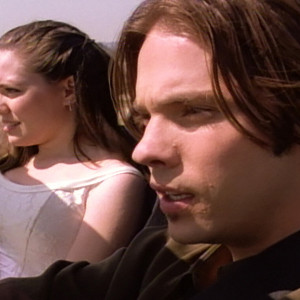 Episode 22
24 May 1999 - There Goes the Bride (2)
In the third season finale, Eric counsels an engaged couple facing difficulties. Mary, Lucy and Simon learn the repercussions of forbidden love, especially Simon when he is caught in his bedroom alone with Deena kissing near his bed. Julie gets married to Dr. Hastings (Hank) and learns that she's pregnant. Also, Heather breaks up with her fiance after she learns he was cheating on her with another woman. Matt tries to save his relationship with Shana after he ran off with Heather, and does this through his pleading of forgiveness.
---
Crew
| Department | Role | Name |
| --- | --- | --- |
| Production | Executive Producer | Aaron Spelling |
| | Producer | Brenda Hampton |
| | Casting | Victoria Huff |
| Department | Role | Name |