---
Ratings
5.5
5.1
---
Series Details
Seasons: 28
Total Episodes: 3154
Creators: Phil Redmond
Networks: Channel 4
Status: Returning Series
First Air Date: Oct 23, 1995
Recent Air Date: Jul 4, 2022
Run Time: m
In Production: Yes
Original Language: English
Age Rating: TV-14
Website: Link
Production Companies: Mersey Television
---
Genres
---
Keywords
---
People Rated This
None of your friends have rated this title yet
Watch Hollyoaks
Sorry! We currently don't have any streaming links for this tv show yet :(
Check back soon! We add new episodes every day!
Synopsis
No Synopsis for this season yet
---
Episodes
Episode 1
02 January 2015 - Worry
Celine sheds a new light on Jason's eating disorder while the rest of the family learns the fate of their loved one. The Roscoes pray for a miracle, and Joe uses his hold over Kim to get her to make sure justice is done.
Episode 2
05 January 2015 - A Big Mistake
The Roscoes are struggling to cope after the events of New Year's Eve; will they let it destroy the family? Tegan records a special message for baby Rose, but ends up making a terrible mistake that could blow her world apart. And Grace is furious when she discovers that Trevor's been keeping some pretty huge secrets from her and is determined to find out what they are.
Episode 3
06 January 2015 - Escape
Leela is caught in the middle as Cameron and Peri go head to head, and a mysterious arrival has a surprising revelation for the Lomax family. Tegan panics when she remembers what she did last night, and decides to flee with Ziggy and Rose. Meanwhile, Trevor has his own bombshell for Grace.
Episode 4
07 January 2015 - The Secret
Tegan and Ziggy discover a surprise stowaway when they arrive at their secret hideaway, and when Leela and Cameron track them down, it seems like Cameron's past mistakes could finally be catching up with him. And Porsche and Lockie battle it out for a job at The Loft, right in the middle of Grace and Trevor's relationship troubles.
Episode 5
08 January 2015 - Biting the Bullet
Tegan forces herself to be cruel to be kind when Ziggy shares his deepest feelings with her. Grace makes a decision about the job in The Loft, but celebrations turn frosty when a misplaced revenge attack puts someone in danger.
Episode 6
09 January 2015 - Fallout
The Lomaxes try their best to survive the emotional earthquake that threatens to destroy their family. When Lockie discovers Porsche is missing, panic sets in, but someone knows more than they're letting on. Joe begs for Nancy's help, but as Nancy battles her conscience, she realises it could be too little too late.
Episode 7
12 January 2015 - Misplaced Trust
Darren launches his new business and is delighted when he gets his first customer. Elsewhere, keen to escape her family, Peri puts her trust in the wrong person, while Robbie goes off the rails, and Nancy has a proposition for Trevor… but she risks getting in too deep.
Episode 8
13 January 2015 - Slippery Slope
Trevor offers Robbie a job stealing cars, while Jason fears he's holding Sandy back from an exciting new adventure. Dirk is shocked when Maxine returns from LA without Dodger, but there could be new hope for the captive in the basement.
Episode 9
14 January 2015 - Against the Clock
Maxine and Theresa are racing against time to rescue Dodger as Sienna plans to disappear with him forever. Elsewhere, Robbie's new job causes more heartbreak for the Roscoes.
Episode 10
15 January 2015 - New Ventures
Maxine needs to find the courage to save herself and Minnie when they are forced to leave the village. Tony offers to help Darren with 'Daz Cabs', but the pairing could be a recipe for disaster. Elsewhere, Dirk is in a dilemma when he receives a letter and he must decide whether to respond to a cry for help.
Episode 11
16 January 2015 - Unwelcome Return
Life is set to change forever for the Blakes and the Savages, while shockwaves are felt throughout the village when news of an escape spreads. Elsewhere, can Darren swallow his pride and make his new business a success with his meddling best mate?
Episode 12
19 January 2015 - Impossible Decisions
Dodger is faced with a terrible dilemma when Maxine and Theresa find themselves in danger. Jason takes his first steps on the road to recovery when he's admitted into an eating disorder facility. Elsewhere, Ste is concerned when he gets a call from a past fling.
Episode 13
20 January 2015 - The Showdown
Ste has some heart-breaking news for John Paul. Elsewhere, Dodger's world goes up in flames and he makes a desperate attempt to save the people he loves. His final showdown with Will ends with tragic consequences...
Episode 14
21 January 2015 - Turmoil
John Paul needs answers but Ste's behaviour only pushes his husband even further away. The pair wait for news that could affect their lives forever, but will they find the strength to face the future together, or is this a betrayal too far for John Paul?
Episode 15
22 January 2015 - The Future
Myra and Porsche receive some encouraging news about Mercedes, while Nana makes a decision about the McQueens' future in Hollyoaks. Elsewhere, Freddie and Lindsey settle into their new home, while Nico is haunted by what happened between Will and Dodger, and John Paul struggles to come to terms with the latest bombshell.
Episode 16
23 January 2015 - Doubts and Discontents
With the evidence against him continuing to grow, Lindsey starts to question Freddie's innocence. Meanwhile, Porsche, Nana and Lockie search for answers of their own. Grace plans something special for Esther but Kim rubs her up the wrong way and can't believe what she discovers.
Episode 17
26 January 2015 - Family Support
Ste's loved ones rush to him when he sets out for revenge, while Grace, Trevor and Esther are delighted to see their baby for the first time. Elsewhere, there's a development in Mercedes' murder case, and Porsche and Celine are shocked by a new arrival.
Episode 18
27 January 2015 - Wrong Place, Wrong Time
Freddie has a terrible day as he tries to keep one step ahead of the police, only to be caught at the scene of a crime. Patrick has faith in Nancy and decides to give her an exciting new opportunity at Hollyoaks High, but can she step up to the mark?
Episode 19
28 January 2015 - Lending a Helping Hand
Nancy asks Esther for help at the school, but the students get more than they expected when Grace gets involved. Elsewhere, Lindsey makes it her mission to save Freddie from a life behind bars but only lands herself in the firing line.
Episode 20
29 January 2015 - Unexpected Arrival
Lindsey's actions leave Celine in a terrible dilemma, while a familiar face returns and makes things even more difficult. Dylan leads Peri down a dangerous path, putting her and her schoolmates in danger, while Nancy desperately turns to Trevor for help.
Episode 21
30 January 2015 - Dealing With the Consequences
Nancy knows what happened at the school was her fault… but will she find the courage to face the consequences? Elsewhere, Jack makes a potentially life changing decision, while Dirk's painful admission could come back to haunt him.
Episode 22
02 February 2015 - Wrong Move
Nancy continues to struggle with her pill addiction. It has disastrous consequences, and it's her family who suffer the fallout. Dylan puts Nico in danger when he suggests that they skip school for the day. Meanwhile, Tegan, Celine and Kim's prank puts their careers on the line.
Episode 23
03 February 2015 - Big Mistake
Frankie forces Esther to choose between her family and Grace & Trevor, while Robbie, Holly & Phoebe's big day out ends up in a surprising party at The Loft. Elsewhere, Nico's actions result in a life-threatening situation for Cindy.
Episode 24
04 February 2015 - Survival
It's a race against time to save Cindy, and Dirk is faced with a tough choice to make. Maxine opens up to Darren about her past and is surprised when Patrick comes to her rescue. Elsewhere, Dylan warns Esther about his dad, while Trevor threatens Robbie about his recent behaviour.
Episode 25
05 February 2015 - Misguided
Dirk's decision stirs up some unwanted attention, while Holly is disgusted by Robbie's actions. Kim makes it her mission to spread some joy, with embarrassing consequences for one of her team-mates.
Episode 26
06 February 2015 - Ceasefire
Holly helps Jason settle in at the clinic, while Dirk can't escape his tormentor. Meanwhile, Tom and Dylan try to call a truce, and Maxine goes to an old foe to help her win custody of Minnie.
Episode 27
09 February 2015 - Truth be Told
Someone is targeting Darren and Maxine, while Ste confides in his old friend Tony about being HIV positive. Elsewhere, Theresa tells Dirk the truth about Myra-Pocahontas but his happiness is short-lived when he receives another threatening reminder about his guilty secret.
Episode 28
10 February 2015 - Plotting and Scheming
In the midst of another row, Diane and Tony are taken back by the return of a familiar face. Elsewhere, Maxine is admitted to hospital, and Peri plots to get rid of Ziggy in a desperate bid for Cameron to return – but she's shocked when a family secret is revealed.
Episode 29
11 February 2015 - Drastic Action
With her world spiraling out of control, Peri decides to take drastic action, and John Paul's good mood is ruined by a haunting phone call. Elsewhere, Maxine is shocked when Patrick makes her an offer, leaving her to decide whether to accept for the sake of their daughter.
Episode 30
12 February 2015 - First Glimpses
Ste and Sinead go for a baby scan, while John Paul enlists Trevor's help in getting rid of his demons. Elsewhere, love-sick Tegan offers to help Ziggy plan a Valentine's Day surprise, but she's stuck in the middle when Leela reveals her own Valentine's idea.
Episode 31
13 February 2015 - Blissfully Naïve
Ziggy talks to Tegan about his future with Leela, oblivious to Leela's big plan, while Porsche's demands push Lockie down a criminal path, and Diane's day goes from bad to worse before Patrick's event at The Hutch. Elsewhere, John Paul has to to choose between Ste and his career.
Episode 32
16 February 2015 - Regret
Porsche locks horns with Trevor over Lockie. It's the morning after the night before for Diane and she's shocked by what she's done. John Paul and Ste's marriage is put under strain, and JP turns elsewhere for comfort.
Episode 33
17 February 2015 - Step Forward
Lindsey vows to help Freddie, but there are dangerous consequences in store. John Paul struggles to get his life back on track until a reminder of the past makes things ten times worse. Meanwhile, Cleo grows jealous of Holly and Harry's friendship.
Episode 34
18 February 2015 - Speak of the Devil
As John Paul attempts to overcome his demons, Patrick's intervention could spell big changes for JP's future. There's a new development in the Mercedes murder case, while Grace zeroes in on a new ally in her plot against Freddie.
Episode 35
19 February 2015 - Surprises
Will it be an all-out war or happy families for the Roscoes when Joe makes a shock appearance at JJ's naming ceremony? Phoebe is stunned by what she discovers when she finds Mercedes' diary. Tony invites Ste and John Paul over for tea, but a surprise guest could land John Paul in hot water.
Episode 36
20 February 2015 - Challenge
When more evidence stacks up against Freddie, he makes a decision to flee the village. Joe seizes the chance to get Lindsey back, but Lindsey's got her own agenda. When Tony offers to help Darren with his love life, things do not go to plan. Elsewhere, Cindy doesn't react too well when a newcomer threatens to take away everything she's worked for.
Episode 37
23 February 2015 - A Father's Love Knows No Bounds
Joe makes a desperate attempt to get his son back as Freddie and Lindsey make a quick escape, while Jack faces big decisions about his future. Elsewhere, Cindy starts brewing a cunning plan for one of the village newcomers.
Episode 38
24 February 2015 - Taking Small Steps
Things are looking up for Jason when he makes a friend in the clinic, while Kim is in turmoil when someone she loves begs her for help. Elsewhere, Theresa gets herself in trouble when she gets a new job, and there's a revelation at the hospital that changes the lives of those involved forever.
Episode 39
25 February 2015 - Call in the Back-up
Theresa is relying on a family member when she makes an error of judgement, while it seems Jason's new friend may not have his best interests at heart. Elsewhere, Lindsey reveals her big plan to Freddie, and Tom puts his relationship with Peri at risk when she gets the total wrong end of the stick.
Episode 40
26 February 2015 - The Party's Over
Leela makes a huge discovery at Peri's birthday party, but someone steps in to take the blame. Ziggy is left embarrassed when he steps up to the mark to impress the Lomaxes, and Patrick gives Nico an impossible order.
Episode 41
27 February 2015 - News Spreads Fast
It's the morning after Peri's party and the village is shaken by last night's news. Following the revelation, Leela makes an announcement, leaving two other villagers feeling very awkward. Elsewhere, Jason is faced with his biggest dilemma yet.
Episode 42
02 March 2015 - Truth
Nancy gets too close for comfort and provokes an emotional outburst from a village resident. Maxine receives devastating news that could change everything, and Ste decides he needs to tell the truth about his illness, but worries about how people will react.
Episode 43
03 March 2015 - The Great Escape
Maxine flees with Minnie, but she could be putting her daughter's life in danger in the process. John Paul's guilt over Harry begins to spiral out of control when a good deed goes wrong. Elsewhere, Nancy finds herself in the centre of a love triangle… but who will she choose?
Episode 44
04 March 2015 - Risky Business
Someone is closer to discovering John Paul and Harry's secret than they realise. Meanwhile, Maxine tries everything to put things right before history repeats itself, and Nancy has made her choice, but is worried she'll live to regret it.
Episode 45
05 March 2015 - Cruel Intentions
Robbie is furious when he discovers Joe's secret, while Joe is shocked by the return of a familiar face. Patrick ropes Theresa in to a wicked plan with an offer she can't refuse. Harry gets in over his head trying to be someone he's not.
Episode 46
06 March 2015 - It's All Coming Up Roscoe
Lockie gives Ziggy a hilarious new business idea, and it looks like Joe's luck is about to change for the better, but things might not be all that they seem. And Theresa could find herself in danger when Patrick flies off the handle.
Episode 47
09 March 2015 - Haunting Reminders
Grace is spooked out by some reminders of Mercedes, while Porsche gets a bit too close for comfort to a guilty Diane. Elsewhere, Ziggy is mortified when a new business venture takes a very awkward turn, while Lockie stumbles on an opportunity to make some money.
Episode 48
10 March 2015 - Actions Have Reactions
Porsche is on the warpath, and her rage has heart-stopping consequences. Lindsey comes close to uncovering a truth, but a secret someone stands in her way. Elsewhere, Lockie is forced to flee the village when he causes trouble with Trevor.
Episode 49
11 March 2015 - Difficult Decisions
It's decision time for Tom and Peri as the reality of their situation hits, while Lockie teams up with his brother when Porsche is under threat. Elsewhere, Tony is determined to see justice done, while tragedy could be about to strike at the hospital…
Episode 50
12 March 2015 - A Valiant Effort
Lockie puts himself and Cameron in danger as a heroic act goes horribly wrong, while suspicion causes tension between Charles' Angels at the hospital. Elsewhere, Theresa's conscience kicks in over her latest scheme.
Episode 51
13 March 2015 - The Pressure is On
Tegan receives some life changing news about her health, while another part of her life is about to crumble. Elsewhere, the pressure is building for Peri and Tom, and Patrick gives Theresa a challenge that puts her in a moral dilemma.
Episode 52
16 March 2015 - Rescue
Maxine seems doomed to fail when a secret plot threatens her chances with Social Services. Will a guardian angel be her saviour? Porsche drags a dangerous ally into her bid for revenge against Lockie, and Peri's mind is made up… until her situation spirals out of control.
Episode 53
17 March 2015 - War Games
A night out with Porsche and Theresa could cost Maxine her future. Meanwhile, it's a race against time for Darren and Cameron after a shock revelation. Trevor locks horns with a fellow villager as things turn nasty, while Grace is on the warpath. Eeeeeek!
Episode 54
18 March 2015 - Liar Liar
Grace is determined to get to the bottom of Trevor's betrayal, and Kim gets more than she bargained for when she confronts Grace. Dirk's torture over the poison pen letter escalates… what is he going to do?! And a surprise intervention leads to a shock result for scheming Patrick.
Episode 55
19 March 2015 - The Tip Off
Dirk's tormentor could be closer to home than he thought. Fresh clues about the Mercedes case emerge, while Grace and Kim have to deal with the consequences of their actions. Patrick fears for Nico, but is it all as it seems?
Episode 56
20 March 2015 - Homecoming
It's a big day for Jason as he finally leaves the clinic. When more truths surrounding Will's death surface, Dirk is forced to pray the price. Elsewhere, Kim comes dangerously close to blowing things apart for Freddie and Lindsey.
Episode 57
23 March 2015 - Revenge
Sinead hits the jackpot when she stumbles across Lindsey's plan. Robbie finds himself out of his depth, and makes a shock discovery, while Joe ensures the rogue responsible for a recent attack will pay the price. Meanwhile, Jason uncovers fresh leads about missing Freddie.
Episode 58
24 March 2015 - Big Mistake
Robbie goes off the rails, but will anyone come to his rescue before he hits self-destruct? Kim's scheme could prove detrimental for one Roscoe brother. Desperate Tom clutches at straws, and Lindsey appeals to Sinead… is this the start of an unlikely alliance?
Episode 59
25 March 2015 - Impulsive Proposal
Tegan is speechless when a notorious face turns up on her doorstep. Meanwhile, an astonishing secret is exposed after an impulsive proposal. Elsewhere, someone is out for revenge on the McQueens and will stop at nothing to see the family crumble.
Episode 60
26 March 2015 - The Trail
Patrick sees red after a recent revelation. The walls are closing in on one villager as the police gather more evidence surrounding Mercedes' murder. Meanwhile, Tegan's condition takes a turn for the worse…
Episode 61
27 March 2015 - Desperation
With time running out, Tegan is forced to make some tough decisions. Grace is out for revenge when she discovers that her plans have been thwarted. Elsewhere, a desperate Ziggy is pushed to the limit, and makes a bold decision…
Episode 62
30 March 2015 - Dilemma
Tony and Diane go in search of answers, while a blast from the past causes havoc for Dr S'Avage. Meanwhile, a frantic Ziggy takes desperate measures…with criminal consequences.
Episode 63
31 March 2015 - Hush Hush
Someone threatens to expose the truth about Dr S'Avage, but what's his big secret? Reality hits Ste and Leela as they take the law into their own hands. And it's decision time for Darren - will he do a deal with the devil?
Episode 64
01 April 2015 - Old Habits Die Hard
Ziggy's faced with an impossible decision… what will he decide? Diane's search for justice has frightening consequences, which put her family in the firing line. Elsewhere, Cindy spies a new romance blooming, while Sienna starts to scheme a way out of the psychiatric unit.
Episode 65
02 April 2015 - All is Fair in Love and War
Tegan has to cover her heartbreak when Leela makes an announcement, while Celine plots to keep love on course. Sienna has something planned, and sets her sights on Dr S'Avage, and Maxine and Darren find themselves closer and closer. Jason's new career brings a surprise revelation for Cindy, which results in devastating consequences.
Episode 66
03 April 2015 - The Hero
As Jason leaps to Cindy's rescue, Darren has his own suspicions about the culprit, and Maxine discovers Darren's not all he seems. Patrick and Theresa take their working relationship to the next level, and Esther is heart-broken by desperate Phoebe's situation.
Episode 67
06 April 2015 - Unexpected Discoveries
Theresa makes a shocking discovery when doing a good deed, while Darren takes matters into his own hands, but soon finds the police are one step ahead of him. Elsewhere, things are getting worse for innocent Phoebe, leaving Esther desperate to find a way to help her friend.
Episode 68
07 April 2015 - Truths Threaten to Surface
Patrick gains an ally, but can he trust them to keep his secret safe? Sinead finds herself caught up in a dangerous game when she does a deal with Freddie, while a surprise phone call sends Grace into a panic… her plan is unravelling - fast.
Episode 69
08 April 2015 - Party's Over
An awkward double booking at The Dog brings two sets of sworn enemies face to face… but there's a big shock in store when DS Thorpe makes a very public arrest. Elsewhere, in a moment of madness, Kim reveals a dark secret from her past.
Episode 70
09 April 2015 - Happy Ever After?
Cracks start to show in John Paul's fairy-tale when Sinead comes between him and Ste. Trevor's loyalty is pushed to the limit when Grace refuses to abandon her master plan, and Joe is desperate to convince Nancy of the truth after a shocking revelation.
Episode 71
10 April 2015 - Woman on the Edge
Feeling guilty and alone, Sinead's emotions threaten to spiral out of control, while Ste re-opens some old wounds, but it's at a cost to John Paul. Elsewhere, Porsche and Celine attempt to build bridges… but will they be forgiven?
Episode 72
13 April 2015 - Two's Company
Three is a crowd for Sinead, John Paul and Ste. Cleo pushes boundaries to get back at Harry, a decision she might end up regretting. Meanwhile, Porsche's buried secrets threaten to resurface, while Diane takes her battle for Rose and Dee Dee to the next level.
Episode 73
14 April 2015 - Time to Confess
Harry braces himself to come clean about one of his many secrets, and Peri panics as her dilemma gets bigger every day. Lockie faces a tough decision to help Porsche, which forces him to choose between his past and his present.
Episode 74
15 April 2015 - Unexpected Emotions
Celine gets more than she bargained for when deep emotions are stirred because of her interfering. Sparks fly for Darren as the search for his mystery woman continues. Elsewhere, Tegan needs to decide whether she should continue to conceal her true feelings or finally confess.
Episode 75
16 April 2015 - Uninvited Problems
An unwelcome face tells Porsche their plans to stick around. Tensions erupt for Leela over her wedding day plans, while Cameron gets his hands on evidence that could make his dreams come true. Meanwhile, Cindy makes a difficult decision about her future with Dirk.
Episode 76
17 April 2015 - No Way Out
Cameron's meddling may have gone too far and Tegan is forced to reveal her true feelings as the pressure mounts. Jason and Cindy get a bit too close for comfort when they use each other as a shoulder to cry on.
Episode 77
20 April 2015 - A Day to Remember
Leela starts to blame her loved ones following the recent attack, while jealous forces are out to stop her wedding to Ziggy. Nico and Dylan come up with an idea to cheer Peri up, but it seems like more than just a bit of fun to Dylan. Elsewhere, Theresa tries to call a truce, but Sienna has other plans…
Episode 78
21 April 2015 - The Head or the Heart?
Time is running out for Ziggy at the wedding, but what will his heart decide? Elsewhere, Tegan faces another battle with Diane, while Cameron's biggest secret could be about to come spilling out…
Episode 79
22 April 2015 - More Than They Bargained For
Patrick and Sienna are in for a shock after a visit to the hospital, while Theresa is approached with a new career prospect. Elsewhere, Cameron has to choose between his pride and his freedom, while Kim's obsession with Grace continues to grow.
Episode 80
23 April 2015 - Not Giving in
Cameron has met his match, but he won't go down without a fight. Elsewhere, Theresa faces tough decisions about her future, and Nancy can't keep Kim's dark secret for much longer, so decides to confide in someone.
Episode 81
24 April 2015 - Relationship on the Brink
Kim tries to claw her way back into Esther's affections, while a livid Lindsey sets out for revenge. Elsewhere, Trevor is furious when a video of Dylan goes viral.
Episode 82
27 April 2015 - Unlikely Ally
Trevor vows to clear Grace's name… but he's going to need Darren's help. Lindsey's shocked to discover the truth about Kim's new obsession, as a dark secret from the sisters' childhood is revealed. Sienna confronts her father over secrets and lies, while Sinead is delighted by the arrival of a flamboyant newcomer.
Episode 83
28 April 2015 - Ghosts from the Past
Lindsey is haunted by reminders of her childhood and resolves to face her demons. Darren double-crosses his family, but a rare act of brotherly love from Joe leaves him guilty. Will Sienna's revenge on Patrick leave her father in serious trouble?
Episode 84
29 April 2015 - Defended
A new cell-mate threatens to make life difficult for Grace, while Kim reaches rock-bottom in a bid to get her girl. Harry protects Dylan against school bullies, putting his chances of footballing success on the line. A new arrival threatens to come between John Paul and Ste.
Episode 85
30 April 2015 - Lottery of Secrets
Dylan hatches a revenge plan, but doesn't realise that he could end up the loser when things backfire. Porsche's world crumbles when she realises the past is about to catch up with her. John Paul struggles to reconcile with the new lodger, unaware he's about to expose his dark secret. Meanwhile, Kim resorts to extreme measures to get closer to her target.
Episode 86
01 May 2015 - Not According to Plan
Sinead's meddling has tragic consequences. Porsche has a plan to protect her sisters, but getting Celine and Cleo on board won't be as easy as she'd hoped. Grace feels the full force of Kim's obsession, while Dylan resorts to crime in a bit to conceal his secret.
Episode 87
04 May 2015 - The Pay Off
Harry is rewarded for his silence but the prospect of prison may force him to reveal the truth. Dylan's secret looks set to be revealed when Trevor makes an intimate discovery, and Diane is charmed by a wolf in sheep's clothing, but will she wise up before any real damage is done?
Episode 88
05 May 2014 - Man on a Mission
Tony is determined to expose the truth about a love-rat, but looks set to embarrass himself instead. Elsewhere, Harry pays the price for tangling with the school bullies, and Esther plays peacemaker but ends up doing more harm than good.
Episode 89
06 May 2015 - Unlucky for Some
Lockie pushes his luck too far, while it looks like the game is up for Porsche when Tony plays detective. Elsewhere, Zack is disgusted by a schoolyard confession, and John Paul fears he's lost Ste forever, while Sinead confronts the real culprit.
Episode 90
07 May 2015 - Relationship in Tatters
Sienna tries to build bridges with Nico, but only ends up making things worse. Tegan questions a friend's motives when he gets too close for comfort, while Zack and Holly's cunning plan leads to heartbreak. Elsewhere, Lockie's lies may have gone too far, and Porsche gets a call from Reenie about her release.
Episode 91
08 May 2015 - 'Ello, 'Ello, 'Ello
Holly's determined to prove her love to Jason, but it comes at a cost to herself. Elsewhere, desperate Porsche decides her best bet is to play dirty, while Nico puts herself in danger, and gripped by jealousy, Mariam is out for blood.
Episode 92
11 May 2015 - Double Bluff
Sienna teams up with Dr S'Avage , while Mariam suspects someone of murder; could the Gloved Hand killer be revealed? Elsewhere, Holly passes her driving test, while Lockie plots to steal money from Diane to give to a desperate Porsche.
Episode 93
12 May 2015 - Trouble is Brewing
Tegan is furious to bump into an intoxicated Mariam, who is still on the hunt for evidence to condemn Dr S'Avage. Meanwhile, Sienna stumbles into a horrifying situation, Dirk finds out about Cindy's debts and Simone captures a naughty kiss on Louis' new drone.
Episode 94
13 May 2015 - Meddling Shopkeeper
Simone accidentally lets slip Cindy's big secret to a devastated Holly. Elsewhere, Dr S'Avage is arrested after being found with some very suspicious evidence.
Episode 95
14 May 2015 - Tropical Surprise!
Lockie tries to win Porsche's forgiveness by organising a surprise BBQ at the McQueens. Threats are being thrown around between Patrick and Sienna, while Tegan is questioned by the police. Meanwhile, Cindy and Dirk finally tie the knot, even after Jason tells Dirk the real reason behind her excessive spending.
Episode 96
15 May 2015 - Fire! Fire!
The BBQ sets fire to the McQueens and it is a race against time for Phoebe to get Lockie and Porsche out. Elsewhere, Darren is shocked with who he finds in the boot of Trevor's car, while Freddie taunts Grace knowing he has the upper hand.
Episode 97
18 May 2015 - Wedding Crasher
It's Freddie and Lindsey's wedding day, but a fight between the Roscoe brothers halts the celebrations when Joe bursts into the church. Grace is released from prison and is presented with an engagement ring from Trevor, but the magical moment is short-lived when a betrayal is revealed. Elsewhere, Sinead's waters break.
Episode 98
19 May 2015 - Ruthless Revenge
Tensions are running high in the village when Grace pulls out a gun on Freddie, but the tables are dramatically turned when Joe gets a grasp of the trigger. Patrick is furious to oversee Darren and Maxine kiss but is persuaded by Theresa to apply for joint custody.
Episode 99
20 May 2015 - Mr. Mischievous
It's the day of Maxine and Patrick's court hearing for custody of Minnie, and Patrick plans to ruin Maxine's chances by blackmailing Darren. Sinead's labour is taking longer than expected so is sent home and, high on emotion, kisses Ste.
Episode 100
21 May 2015 - Labour Day
Patrick and Maxine fight their case for the custody of Minnie but Patrick's evil foul play begins when Maxine is found with a water bottle filled with alcohol and is escorted out of the hearing. Elsewhere, Sinead goes in to labour for real on the kitchen floor of The Hutch.
Episode 101
22 May 2015 - Full Custody
Maxine is devastated when Patrick wins full custody of Minnie and struggles to cope with her emotions. Sinead and Ste bring baby Hay home to the flat, but she becomes worried when she finds out that he's broken up with John Paul.
Episode 102
25 May 2015 - Accidental Damage
Zack's antics cause an argument in the group, which distracts him from the road, as he accidentally hits a bystander. Meanwhile, Maxine convinces Darren not to go to the police, while Patrick lies to Theresa to keep her onside. Elsewhere, Simone informs Lindsey that she has bought her flat and plans to move in right away.
Episode 103
26 May 2015 - Uncovered Secrets
Kim finds a silky camisole underneath Dylan's clothes, and Nico jumps to conclusions. Jason tries to get rid of any evidence from the car crash but ends up discovering something a lot worse. Cleo receives some suspicious CCTV footage which makes her doubt Harry, and Freddie tells Lindsey that he has found somewhere for them to live, which could be controversial.
Episode 104
27 May 2015 - Background Check
Ben is having issues with his new recruit and decides to do some digging. Nico is fed some lies to protect Dylan's secret, this backfires and Sienna finds herself in danger. Elsewhere, Harry has to prove himself to Cleo in order to regain her trust.
Episode 105
28 May 2015 - Breaking Point
Dr S'Avage agrees to help Sienna, but after realising the truth about Dylan, Nico begs for Sienna's forgiveness, but it could be too late. Porsche goes to desperate measures to gather some cash, while Cindy tries to relieve some of Jason's tension. Meanwhile, Esther is surprised when Kim tells her about Kath.
Episode 106
29 May 2015 - Looking for Comfort
Sienna regrets her actions, and finds solace in a certain doctor's arms. Celine gets involved in some dodgy dealings to stop Porsche from going too far, and Reenie arrives in the village. Meanwhile Grace tests Esther's feelings for Kim to prove a point.
Episode 107
01 June 2015 - Happy Families
Grace is overwhelmed with jealousy when Dylan's mum turns up at the hospital. Reenie invites the family to lunch at The Dog and insists she's staying for good, so Porsche hatches a plan to send her straight back to prison.
Episode 108
02 June 2015 - Dark Revelations
Things take a sinister turn when Reenie's boyfriend Pete arrives at the McQueens and a dark revelation is uncovered. Elsewhere, Grace is in hospital and a love-struck Kim continues with her malicious antics.
Episode 109
03 June 2015 - Blinded from the Truth
Porsche is devastated when Reenie accuses her of lying about Pete's assault. John Paul offers to babysit baby Hay as Ste struggles to juggle work and fatherhood, while Sinead wishes to reveal her secret crush.
Episode 110
04 June 2015 - Cry Wolf
Sinead is convinced that John Paul wants Ste back so she causes havoc to gain Ste's attention. Sienna helps Dr S'avage clean out Mariam's house, but finds there are a number of precious items missing.
Episode 111
05 June 2015 - Part-Time Burglars
Cameron and Celine break into Mariam's house and plan to get a painting back for Dr S'Avage. An argument erupts between Sinead and Ste, which leads him to visit someone from the past.
Episode 112
08 June 2015 - 50 Shades of Cindy
There's some awkward chemistry in the air when Cindy begins to pen an erotic novel and ropes Jason into helping her. Ste insists he wants to do the 'family thing' with Sinead, and Nico plans a chilling revenge for her mother.
Episode 113
09 June 2015 - Blake vs McQueen
Reenie and Sienna battle it out for a job at Price Slice, whilst Nico collapses in the flat after her malicious plan to hurt her mother goes terribly wrong.
Episode 114
10 June 2015 - Against Time
Phoebe's health is deteriorating as John Paul desperately tries to find a way to get through to her. Elsewhere, Scott is disgusted to hear Sinead wants him to move out of the flat.
Episode 115
11 June 2015 - All Aboard The Party Bus
Lockie attempts to calm a troubled Porsche from drinking her problems away, but his efforts are wasted when she leaves on a party bus. Elsewhere, John Paul breaks the news of Phoebe's unconsciousness to a heartbroken Robbie.
Episode 116
12 June 2015 - Secrets Under Covers
Porsche returns home from another night out, grabs Lockie and takes him upstairs to the shock of John Paul who catches them in the act. Dr S'Avage presents a twinkle of hope for the McQueens, but a grief-stricken Robbie endeavours to halt Phoebe's treatment.
Episode 117
15 June 2015 - No Entry
Robbie persists to barricade Phoebe's hospital room door, while the McQueens desperately struggle to get in. Elsewhere, Tegan is put-out by the return of loved-up Leela and Ziggy.
Episode 118
16 June 2015 - Mistaken Identity
Thinking that Grace shot Phoebe, Robbie seeks help in getting revenge. Meanwhile, Tegan is furious to see her potential date giving Celine flowers.
Episode 119
17 June 2015 - Guilty Conscience
Joe decides to hand himself in to the police for shooting Phoebe, while Trevor is distracted in the flat by Val, unaware that Kim's hidden camera is watching them.
Episode 120
18 June 2015 - Say Cheese!
Val makes a move on Trevor and kisses him, which is all caught on camera. At the garage, Mercedes urges Robbie to stop Joe going to the police with a reason he can't ignore.
Episode 121
19 June 2015 - Photo Bomb
During Esther's baby shower, Kim maliciously shows Grace the photos of Val and Trevor kissing. Elsewhere, Ziggy is seething with jealousy when he returns to find Tegan and Tony getting cosy with a game of Twister.
Episode 122
22 June 2015 - The Power of Love
Grace starts pretending she's in love with Kim to keep her sweet. Tony arranges a drink with Tegan, only for it to be sabotaged by a jealous ex, but whose? Elsewhere, Scott plans revenge on Ste and Sinead, and Holly realises the messages from Zoe aren't coming from Switzerland…
Episode 123
23 June 2015 - Green with Envy
Ziggy tries to tell Tegan that Tony is using her, but Tony manages to convince her otherwise. Elsewhere, Dirk fools Cindy into thinking she's won a writer's competition. In the Magic Bean, Holly messages 'Zoe' and is shocked to see a message arrive on a phone where Louis Loveday is at.
Episode 124
24 June 2015 - Biting the Bullet
Thinking Louis is behind the messages from Zoe, Holly, Cleo and Harry tell Zack about the folder. Elsewhere, Tegan threatens to flee the village with Rose after getting into an argument with Diane, but is there an even bigger shock in store?
Episode 125
25 June 2015 - Doing the Right Thing?
Leela suspects Diane is lying about her whereabouts when Rose was snatched, so she heads to The Hutch for clues. Elsewhere in the village, everyone is shocked when the police make an arrest.
Episode 126
26 June 2015 - Incriminating Evidence
DS Thorpe questions Tegan, while Tony asks Darren to give him an alibi. Elsewhere, Zack is furious when Louis doesn't stand up for their family, and Ben and Sienna's relationship continues to bloom.
Episode 127
29 June 2015 - Lights, Camera, Action!
Accusations are thrown around the village for the kidnapping of baby Rose. During the press conference, Tony suspects the worst and drops Diane in the firing line. Elsewhere, Louis tells Zack they've decided to leave Hollyoaks.
Episode 128
30 June 2015 - Master of Manipulation
Patrick attempts to meddle in Sienna's love life by insinuating that Ben is no good for her. Meanwhile, a hooded intruder is spotted in a family home.
Episode 129
01 July 2015 - Independent Woman
Patrick maliciously flaunts Minnie in the village, but Maxine is stronger than ever with a new business venture to secure a future for her and Minnie. Meanwhile, Jason becomes increasingly jealous of Holly and Zack's relationship.
Episode 130
02 July 2015 - Should I Stay or Should I Go?
An argument erupts between Sienna and Patrick, so Ben gives her the choice to leave with him and offers his hand. Elsewhere, the attraction between Jason and Cindy is uncontrollable.
Episode 131
03 July 2015 - Loyalty Lies
Pete attempts to fit in within the village, while Porsche is devastated to see Lockie socialising with her abuser. Sienna takes extreme measures after Nico warns her about the possibility of another woman in Ben's life.
Episode 132
06 July 2015 - Secrets and Lies
Ben's past starts catching up with him, while Robbie flies into a fit of rage after a heartbreaking discovery. Elsewhere, Porsche despairs when some sinister secrets bubble to the surface.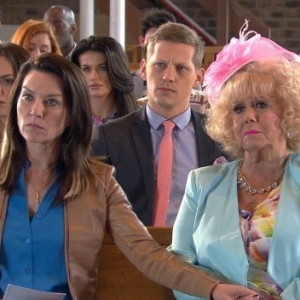 Episode 133
07 July 2015 - A United Front
The McQueens are in meltdown, but can they pull together for Phoebe's funeral? Lockie and Porsche are at breaking point, and Mercedes is devastated when Joe gives her a few home truths.
Episode 134
08 July 2015 - Betrayal
Cleo's betrayed by someone she thought she was close to, but how far is she prepared to go to save her Mum? Elsewhere, an unlikely hero means Ziggy can attend the audition of his life, and John Paul let's out his devilish side for the sake of love.
Episode 135
09 July 2015 - Facing Facts
Mercedes decides to confront the truth, which has huge consequences. Elsewhere in the village, Nancy's in for a shock from a mystery admirer, and Lindsey takes drastic action when she uncovers a conspiracy that could ruin her future.
Episode 136
10 July 2015 - New Beginnings
Reenie promises to turn over a new leaf, but is it too little too late? Elsewhere, the Roscoes race against time to finally put things right, while Theresa comes up with a wicked scheme, but she could be totally overstepping the mark…
Episode 144
22 July 2015 - Interfering Individual
Frankie's interfering threatens to have devastating consequences for Tom and Peri. Cleo visits a familiar face in an act of desperation, and Porsche is out for blood as she plots a cruel act of revenge. Elsewhere, Sienna is helped by a secret saviour.
Episode 186
18 September 2015 - McQueen Comfort
Mercedes tries to comfort Freddie, who is at breaking point with his relationship with Lindsey. Elsewhere, Nancy plays the hero when she rescues a villager from despair. Meanwhile, Ste is forced to face the consequences of his actions.
Episode 206
16 October 2015 - Call the Police!
Things get worryingly dangerous for Sienna and Nico, when Ashley traps them with her disguise. Elsewhere, Jason tells Trevor that Robbie is the informant, while Freddie makes plans to leave the country.
---
Crew
| Department | Role | Name |
| --- | --- | --- |
| Department | Role | Name |