---
Ratings
7.3
7
---
Series Details
Seasons: 8
Total Episodes: 199
Creators: Collier Young
Networks: NBC
Status: Ended
First Air Date: Mar 28, 1967
Recent Air Date: Jan 16, 1975
Run Time: m
In Production: No
Original Language: English
Age Rating: NR
Website: Link
Production Companies: Universal Television , Harbour Productions Unlimited
---
Genres
---
Keywords
---
People Rated This
None of your friends have rated this title yet
Watch Ironside
Purchase (Rent or Buy) this season
Synopsis
This is a list of episodes from the sixth season of Ironside.
---
Episodes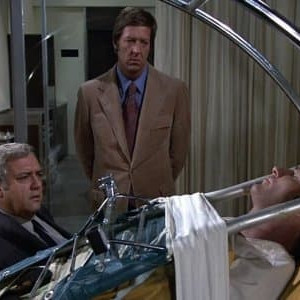 Episode 1
14 September 1972 - Five Days in the Death of Sergeant Brown (1)
The star witness to a major case, Ed is shot and seriously injured by a mystery assailant. Threatened with paralysis he conducts his own struggle from within his hospital bed, whilst the Chief tries to find out who is still trying to kill his prize pupil. Meanwhile Ed's best chance of recovery is an untested experimental operation performed by a surgeon whose integrity is very likely about to be put to the test.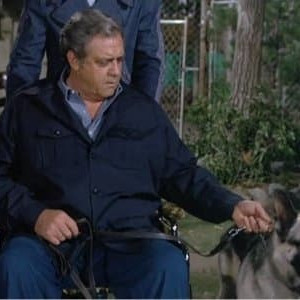 Episode 2
21 September 1972 - The Savage Sentry
A man with an uncanny ability to tame vicious guard dogs commits a series of robberies in San Francisco. The Chief has a plan to stop him, but it calls for a dog of his own and a willingness to put himself right in the line of fire.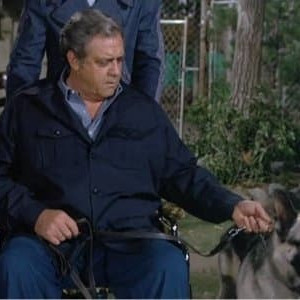 Episode 3
28 September 1972 - Programmed for Panic
After a murder is committed in a San Francisco park, the Chief takes part in a live TV broadcast in the hope of provoking such a panic in his prime suspect that the man will make a mistake, or lead Ed to some hard evidence.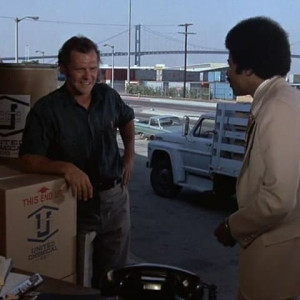 Episode 4
12 October 1972 - Down Two Roads
Mark's graduation from law school coincides with the arrest of a caretaker that he has befriended. Believing the man innocent, he finds the weight of the law stacked against him, and quickly becomes disillusioned with his new career. Should he turn his back on law altogether, though, or should he just find another way to devote himself to justice?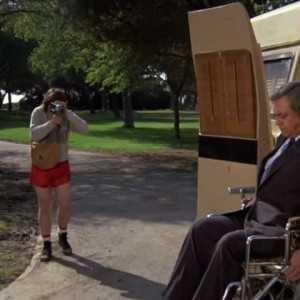 Episode 5
26 October 1972 - Camera...Action...Murder!
The Chief receives a series of films showing the murders of young women, and his investigation is assisted by a filmmaker currently wooing Fran Belding. This man becomes the Chief's prime suspect, much to Fran's distress; but trouble looms larger when Fran herself is marked as the next victim.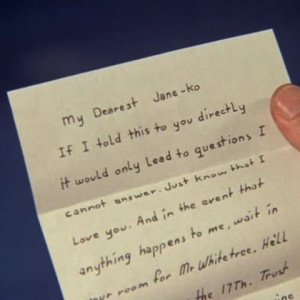 Episode 6
02 November 1972 - Riddle Me Death
A man dies in what appears to be an accident, but his estranged daughter is convinced that the story is not nearly so simple. A complex Japanese puzzle appears to be the only clue to the truth and the Chief struggles to solve it alone. Meanwhile the daughter of the murdered man has problems of her own; but these can only be solved by Ed's special touch.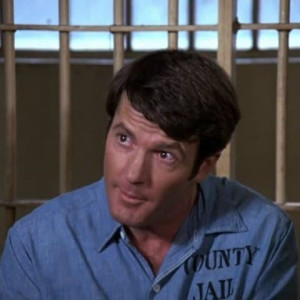 Episode 7
09 November 1972 - Nightmare Trip
Ed goes to LA to fetch a prisoner, but when confronted by a pair of hostile beat cops after a mugging, he loses his cool and ends up in the County Jail. Caught up in a blatantly unfair system, he begins to doubt his own integrity as a representative of a law that is clearly failing so many people; and refuses to allow the Chief to bail him out.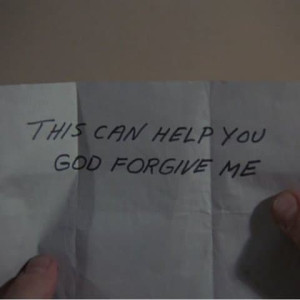 Episode 8
16 November 1972 - Buddy, Can You Spare a Life? (1)
Meeting with a man imprisoned for manslaughter seven years previously, the Chief begins to doubt the evidence which he himself once collected. Faced with extreme opposition from members of the DA's office, including the DA himself, Ironside sets out to review the case; and hopefully to prove a man innocent.
Episode 9
16 November 1972 - Buddy, Can You Spare a Life? (2)
The Chief continues his to try to reopen the case, struggling to convince a young mother to come forward and admit to her part in events that she would rather try to forget. Meanwhile he comes ever closer to the truth, as somebody tries to ensure that he never finishes his investigations.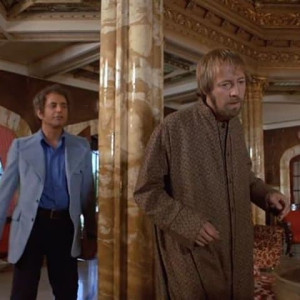 Episode 10
23 November 1972 - The Countdown
A scientist is given a irremovable belt containing explosives, and the man responsible demands the release of three men from prison in return for the key to the device. The Chief sets out to find and trap the man before time runs out and the bomb explodes, taking an innocent person with it.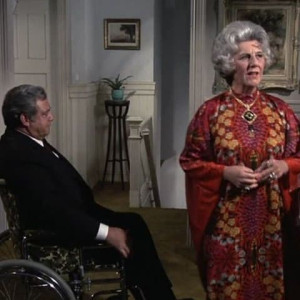 Episode 11
30 November 1972 - The Deadly Gamesmen
A series of cleverly orchestrated crimes in a section of San Francisco leads the Chief to the conclusion that a pair of bored society beaux have turned the city into a giant chessboard, and are playing a game with the citizens as their chess pieces.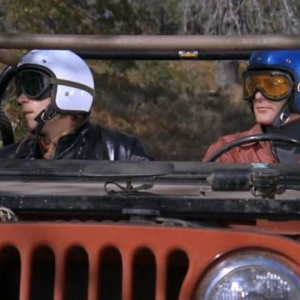 Episode 12
07 December 1972 - Who'll Cry for My Baby?
The Chief meets a man whose daughter has been murdered, and who is unable to rest until the killer is found. Moved by the old man's predicament as a victim lost in the system, Ironside decides that, since one of his statistics now has a face, he will do all that he can to see justice done.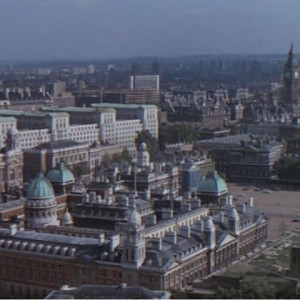 Episode 13
14 December 1972 - Cold, Hard Cash
When the team gets word of a kidnap plot, Ed goes undercover as the wheel man; but he soon finds himself battling with a fellow gang member who wants the victim dead, and is happy to kill Ed too if he gets in the way. Meanwhile the Chief struggles to gain the trust of the victim's mother, a film star whose head is being kept firmly in the clouds by her manager.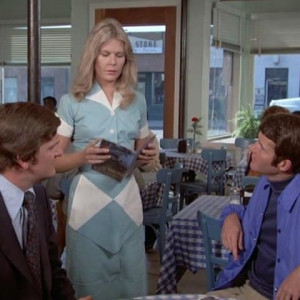 Episode 14
21 December 1972 - Shadow Soldiers
Whilst in London at a conference with the Chief, Ed witnesses an assassination, and promptly becomes the killer's next target. Meanwhile he and Ironside have to work with the local forces to find the assassin, but find themselves hampered by the Superintendent on the case, an old friend of the Chief's who seems to have a hidden agenda.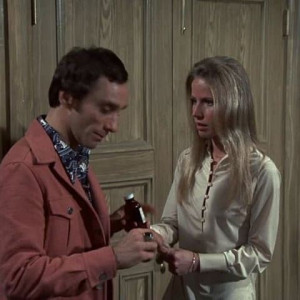 Episode 15
04 January 1973 - Ollinger's Last Case
The Chief receives a worrying phone call from Ted Ollinger, an old friend, and he sends Ed to investigate. In the tiny town of Grant Bay Ed can find no sign of his former colleague; but he soon discovers that the locals are determined to hide something from him and that at least one of them will stop at nothing to keep him from the truth.
Episode 16
11 January 1973 - A Special Person
Whilst the Chief and Ed are at a party, the host is shot at by an unseen assailant, and Ironside wastes no time in settling himself down with the rest of the guests to try to work out who the would-be killer might be. The truth, he is sure, is in the garden somewhere; and all that he and Ed have to do is to find it before their opponent strikes again.
Episode 17
25 January 1973 - The Caller
After agreeing to housesit for a friend, Fran Belding begins to receive suspicious telephone calls, which soon become rather more sinister. When a girl is murdered close by and the calls take a more personal turn, the Chief becomes worried, and sets out to trap whoever is responsible.
Episode 18
01 February 1973 - Love Me in December
When her fiancé is accused of murder, a young woman comes to Ironside for help; but when it transpires that the fiancé in question is an old Naval acquaintance of the Chief's, a man with whom he did not get along, the assistance is both offered and accepted somewhat grudgingly. It soon becomes clear, however, that the prejudice which exists in the couple's home town is in serious danger of destroying an innocent man's life.
Episode 19
15 February 1973 - The Ghost of the Dancing Doll
An old friend of Ed's goes missing after promising to take him on a fishing trip, and it soon becomes clear that he has become involved in a Mob killing. Ed is determined to prove his friend's innocence, but the evidence soon mounts up; and Ed finds himself having to argue against even the Chief in order to show that his friend is not a killer.
Episode 20
22 February 1973 - All About Andrea
A celebrated feminist writer is shot at in the street, and Fran is assigned to protect her. The Chief does what he can to help from behind the scenes, whilst Ed does what he can too; by promptly falling in love with the victim's granddaughter. There are many possible culprits - but which is the right one?
Episode 21
01 March 1973 - Another Shell Game
A major art display comes to San Francisco, just as an old adversary of the Chief's is released from jail. Anthony Justin is determined to get his revenge on Ironside by beating him in a test of skill, but it soon transpires that his target is not the vast collection of paintings, but the owner - Elizabeth Van Deering, a fun-loving young woman with whom Ed has fallen head over heels in love.
Episode 22
08 March 1973 - All Honorable Men
An apparently impossible robbery occurs in the safety deposit vault at a bank, and Ironside begins to unravel the details of the crime. There is only one apparent suspect, and the Chief is certain that he is not guilty; but as he investigates further, his own life may well be in danger.
Episode 23
15 March 1973 - The Best Laid Plans
The Chief is in the bank when it is robbed by a gang of three men, planning to await the arrival of a payroll delivery truck. The threesome are at odds with each other from the start, and Ironside plans to work on the antagonism between them, but they are wise to his plans and will stop at nothing to get what they want.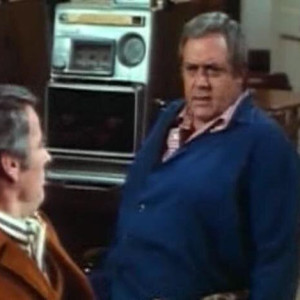 Episode 24
22 March 1973 - A Game Of Showdown
Ed and the Chief are on their way out of the city for a fishing trip, when they get mixed up in a fatal shooting at a motel-cum-poker hall run by a sleazy professional gambler. Interested at first only in solving the murder, Ironside soon becomes involved in a young couple's struggle to win back their money and escape before it is too late.
---
Crew
Department
Role
Name
Production
Producer

Jeannot Szwarc

Collier Young

Albert Aley

Douglas Benton

Winston Miller

Joel Rogosin

Executive Producer

Cy Chermak

Department
Role
Name