---
Ratings
7.5
7.6
---
Series Details
Seasons: 7
Total Episodes: 501
Creators: Jean-Yves Raimbaud
Networks: France 3 , Canal+ Family , Gulli
Status: Returning Series
First Air Date: Sep 6, 1999
Recent Air Date: Oct 12, 2018
Run Time: m
In Production: Yes
Original Language: French
Age Rating: TV-Y7
Website: Link
Production Companies: Studio Xilam , Saban International , Gaumont International , France 3
---
Genres
---
Keywords
---
People Rated This
None of your friends have rated this title yet
Watch Oggy and the Cockroaches
Stream Sources
Synopsis
No Synopsis for this season yet
---
Episodes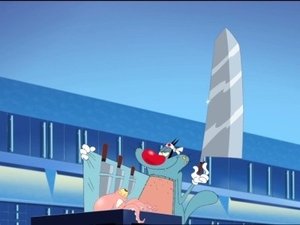 Episode 1
18 October 2008 - Octopus
Oggy befriends an octopus which the cockroaches want to eat. Little does Oggy know this octopus makes a habit of plotting robberies - for example, when Oggy was at his most unaware when he sleeps and gets relaxed, the Octopus sniggers and pulls Oggy's stuff into his head.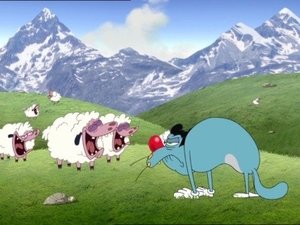 Episode 2
19 October 2008 - Sheepcat
Oggy has a new job shaving sheep. For him, even here, the cockroaches are there, ready to get Oggy in trouble - for the shear love of it.
Episode 3
20 October 2008 - Night Watchmen
Oggy and Jack are assigned to keep watch over a toxic waste plant, briefed to make sure no monkey business will make this plant go nuclear. But while Jack is sleeping on the job, Oggy has to take damage from the cockroaches, trying his best to avoid sending the entire waste plant sky-high.
Episode 4
21 October 2008 - Abandoned Cockroaches
When Oggy and Jack go on vacation yet again, the cockroaches tag along, then the cruel cats plan on leaving them behind at a convenience store which only destroys their car.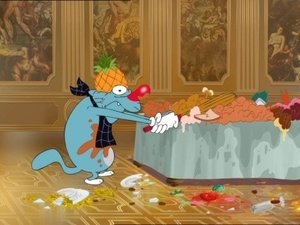 Episode 5
22 October 2008 - V.I.P. Party
Our favorite feline is invited to a extravagant V.I.P. party. As always (if you're familiar with Oggy), the cockroaches come along and turn this party up one notch too high as Oggy suffers torture by Marky and Dee Dee, while Joey has eyes for Cinderella and her only.
Episode 6
23 October 2008 - Scuba Diving
When our not so deliberate duo, Oggy and Jack, take up scuba diving in Hawaii during their vacation, not even water can stop the cockroaches from tagging along and taking the plunge to cause their usual mischief - this time under the great blue.
Episode 7
24 October 2008 - Oggy and the Magic Shoes
While walking home, Oggy finds a pair of magic shoes that can dance on their own whenever spit-shined. Oggy soon becomes famous with the toe tappers. All goes well until the cockroaches ruin everything.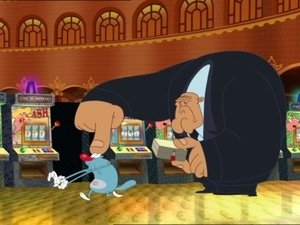 Episode 8
25 October 2008 - Casino
Oggy receives his 1 million Euro payment. Jack spends it all on a casino joint. And of course, the cockroaches come along for the ride.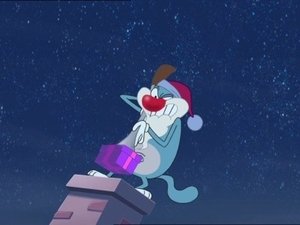 Episode 9
26 October 2008 - Santa Oggy
Right in the middle of this Christmas night, Santa Claus, while doing his routine gift delivery services, experiences - and gets disabled by - cockroach-related technical difficulties, so Oggy volunteers to do his job for him. Too bad the cockroaches are trying to take the "merry" out of Oggy's merry Christmas tonight - festive anything-goes style.
Episode 10
27 October 2008 - Just Married!
The big day has arrived when Oggy gets invited to the marriage of his best friend, Jack, and a French poodle, promising to be cockroach-free, but Dee Dee, Marky and Joey come along for the wedding too, uninvited, just to raise a little heck... well, so much for that "No Cockroaches Allowed" policy of the invitation.
Episode 11
28 October 2008 - Living Carrots
One day, Oggy discovers that all of the vegetables in his house are alive! So naturally, the vegetables are saved. But when Oggy gets hungry, they may have to resort to change Oggy into a predator.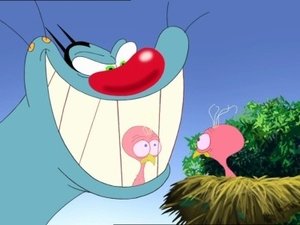 Episode 12
29 October 2008 - Castaway Cats
Oggy and Jack fall overboard on their cruise ship and fall on an island. While Oggy is enjoying himself, Jack is trying to leave. Meanwhile, the cockroaches are being kidnapped by a roach eater.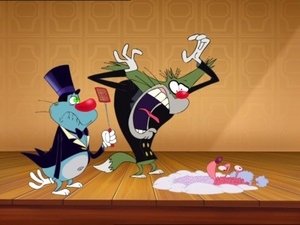 Episode 13
30 October 2008 - Transamazon-ians
Oggy and Jack are on a wild safari. They run into friendly insectivore natives who accidentally make Jack unconscious which the cockroaches take advantage of.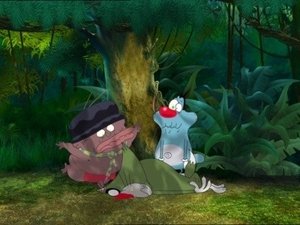 Episode 14
31 October 2008 - First Flight
Jack is preparing an airplane flight, while Oggy gets on the wrong flight and the cockroaches are the pilots.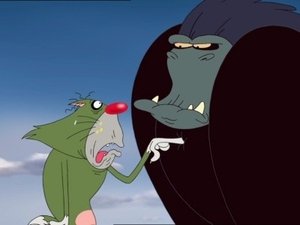 Episode 15
01 November 2008 - Invincible
After being run over by a car, Oggy discovers he has superpowers, and Jack becomes his sidekick in order to protect the world from villainy. However, both cats always get into trouble.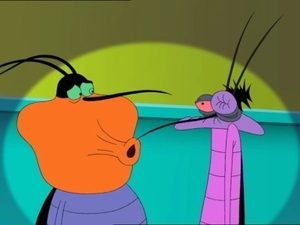 Episode 16
03 November 2008 - Inside Out
A witch drops a strange invention - an enchanted telescope, namely - in Oggy's house. When the cockroaches use it, they grow to gigantic size - and of course manage to shrink Oggy, Bob and Jack.
Episode 17
04 November 2008 - Priceless Roaches
Oggy is in China and the cockroaches are there also causing mischief. With that, Oggy sells them to a Chinese merchant but then starts to think he made the wrong decision.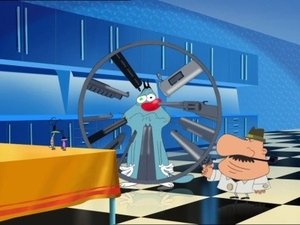 Episode 18
05 November 2008 - The World Underneath
The cockroaches' latest prank on Oggy is trapping him under the house, Jack hears of it and makes the cockroaches go down to save him. However, Jack must first sign the contract that if the cockroaches save Oggy, they will humiliate Jack by recording him dancing like a ballerina.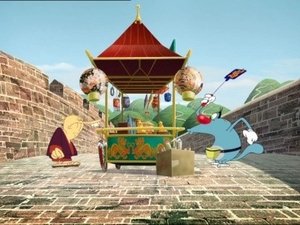 Episode 19
06 November 2008 - Golden Eggs
While doing laundry, Oggy discovers of a chicken that can lay eggs... but not just any egg - golden ones. When the cockroaches learn of this, they try to get one of her eggs too for profits.
Episode 20
07 November 2008 - Termite-ator
The cockroaches hire a termite to help them get in the cupboards. However, this termite causes problems with Oggy and Jack.
Episode 21
08 November 2008 - The Mini-Golf War
Oggy and Jack are playing mini golf in Oggy's yard. The cockroaches show up to cause trouble for Jack, while Oggy keeps getting a pefect score.
Episode 22
19 November 2008 - Oggywood
Oggy is exploring scenic Hollywood, and the cockroaches try to bug him. The chase leads them to several movie scene parodies.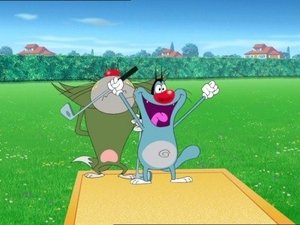 Episode 23
19 November 2008 - Horse Ride
Jack brings Oggy a horse for a horse show. Oggy plans on getting famous for riding it but becomes only a show the cockroaches can enjoy.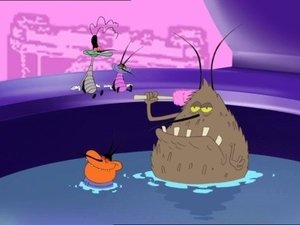 Episode 24
20 November 2008 - Oggy's Crab
Oggy adopts a crab knowing that it keeps the cockroaches away, However, the crab soon gets a bit... clingy to Oggy much to his dismay.
Episode 25
21 November 2008 - The Fugitive
After catching him in the fridge, Oggy manages to kill cockroach Dee Dee, but he did not realize that Dee Dee was just playing dead. Also, Joey and Marky calls the police and a crime inspector to make this even worse for Oggy.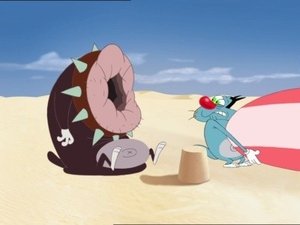 Episode 26
22 November 2008 - The Ancestor
Oggy finds a past form of a cockroach frozen in his garden. The kind cockroaches unfreeze him, later finding out the really, really hard way that what cockroach they've thawed is a wild cat eater - which equals Oggy is bound to end up becoming the main item in a prehistoric cave-bug's menu.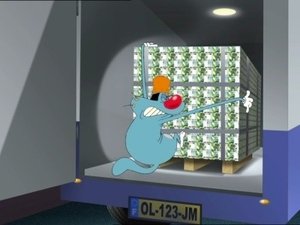 Episode 27
23 November 2008 - Surf's On
Oggy and Jack are out surfing but Oggy is stuck with the big board. Plus, after he manages to control it, the cockroaches make things worse for him and Jack.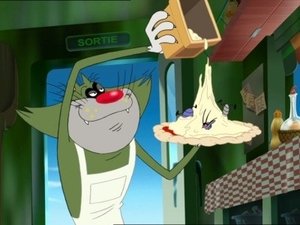 Episode 28
24 November 2008 - Hold Up
Oggy must protect the banks' money, but the cockroaches steal his forklift, and Oggy has to get it back once and for all!
Episode 29
21 December 2008 - Fancy-a-Pizza
Jack opens up a pizza delivering business and Oggy is the deliverer. But Oggy's job becomes difficult once the cockroaches steal Oggy's every order.
Episode 30
21 December 2008 - Oggy's grandma
Oggy's grandmother returns which means bad news to the cockroaches. Considering, Oggy's grandmother drinks a power coffee, making her super strong against them.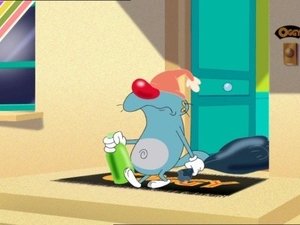 Episode 31
21 December 2008 - Locked Outside
The cockroaches lock poor Oggy out of his house. Now Oggy must find a way back in before his house is trashed.
Episode 32
21 December 2008 - Cartoon Lesson
While watching a bunch of old cartoons, Oggy and the cockroaches are transported in the projector. Oggy then finds the characters who want to teach him a little something about cartoons.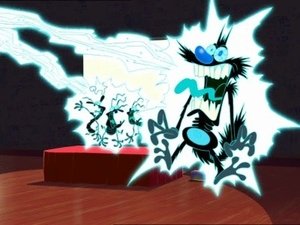 Episode 33
22 December 2008 - Ugly, Dirty and Good
Cockroach Joey is hit on the head and treats Oggy like a role model. Now Marky and Dee Dee must try to change him back.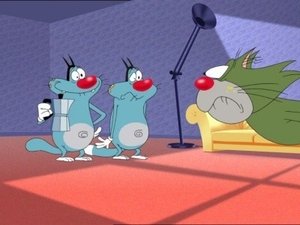 Episode 34
22 December 2008 - Moving Out
Oggy is up to his breaking point with the cockroaches so he moves to the city. Feeling sad and lonely, the cockroaches try to look for him - but when they show up in his new apartment room, something tells the city there's not enough room for the both of them.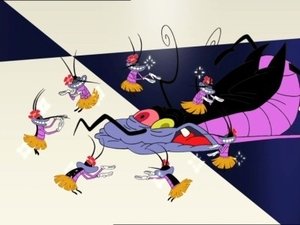 Episode 35
29 December 2008 - Deep Trouble
Oggy and Jack climb aboard on a submarine, but the cockroaches come along and take over the entire ship.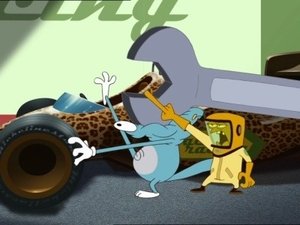 Episode 36
24 December 2008 - The Cicada and the Cockroach
Kindhearted Oggy takes in a cicada hoping to use her sound for relaxation, not realizing it gives Joey a headache.
Episode 37
24 December 2008 - Oggy's Double
Oggy finds another cat that is a near-perfect replica of himself (save for a white spot on his tail). When Jack learns of this, he decides to play a cruel joke on the cockroaches making them think that Oggy is everywhere, resulting in double the trouble, double the laughs.(There's a deleted scene in this episode. When Joey finds out that Oggy follows him in space, there's a part that his head exploded. But since it was deleted due to censorship, the result is the scene when he cries.)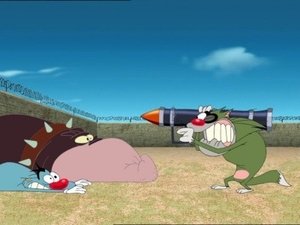 Episode 38
24 December 2008 - To Serve and Protect
Oggy and Jack attend Bob's police training camp, and the cockroaches sabotage Jack's every task and then somehow made Oggy win.
Episode 39
24 December 2008 - Formula 1
Jack invites Oggy to see him participate as an F1 racer in the big Formula 1 tournament being hosted at the circuit arena. But when the cockroaches come with the cats to get their race on, havoc-wreaking bug style, things are about to go way too turbo for Oggy and Jack to stomach.
---
Crew
| Department | Role | Name |
| --- | --- | --- |
| Department | Role | Name |