---
Ratings
---
Series Details
Seasons: 21
Total Episodes: 354
Creators:
Networks:
Status: Returning Series
First Air Date: May 8, 2012
Recent Air Date: Oct 13, 2021
Run Time: m
In Production: Yes
Original Language: English
Age Rating: NR
Website: Link
Production Companies:
---
Genres
---
Keywords
---
People Rated This
None of your friends have rated this title yet
Watch Richard Herring's Leicester Square Theatre Podcast
Sorry! We currently don't have any streaming links for this tv show yet :(
Check back soon! We add new episodes every day!
Synopsis
No Synopsis for this season yet
---
Episodes
Episode 1
05 May 2021 - RHLSTP 326 - Anneka Rice - Depp Fry Rice Ball
Great news! RHLSTP has been recommissioned for a record breaking 21st series and Rich has had a makeover to make him look like a rock star. His guest is lifelong liar and former thief Anneka Rice. They discuss Blankety Blank being the pinnacle of the showbiz ladder, how an enforced change of name might have changed everything, the hidden dangers of Treasure Hunt and who might have been the sky runner had they not been so athletic, the down side of fame and how Anneka bribed the paparazzi, what it was like to have your birth canal depicted on Spitting Image, attempting to track down her Madame Tussauds head, why she pretended to be her own agent and how Clemmie took on a life of her own, turning down the chance to be a Bond girl, taking revenge on the school bully and the power of chucking yourself into stuff and hoping for the best. All this and a possible pedo ghost.
Episode 2
12 May 2021 - RHLSTP 327 - Catie Wilkins - Double Robert Boris
Richard has some serious questions about Gio Compario from the Go Compare adverts and is also surprised to see online that he is currently single. That might make things awkward this week as he's chatting to his (ex?) wife Catherine Wilkins. Will he find out anything he didn't already know? And will it change things now that he's back in the same room as his guest? They discuss whether porn films have it right about pizza delivery, writing a book whilst doing working at another job, how to convince men to do hoovering (and more), whether diarrhoea is a subject fit for a family circular, how Catie nearly committed murder, if she will leave her husband for a woman or have him replaced with a robot. Plus how is she worth so much more than Richard? It's the flirtiest podcast he's done since last week with Anneka Rice.
Episode 3
19 May 2021 - RHLSTP 328 - Mae Martin - Playdough Tumour
Richard is surprised to discover the scale of what he had (until recently) been carting around in his scrotal sac. Due to his aphantasia he couldn't visualise it until he made a model. Never mind the bollock though, his guest is the wonderfully talented Mae Martin. They discuss how kissing pretty actors on TV isn't the fun it might appear, whether it's better to be beautiful or clever, which member of the royal family they'd prefer to be, why people of Richard's generation are so strung up over gender and sexuality and what it's like to start stand up at 13. There's sex, there's drugs, there's no rock or roll.
Episode 4
26 May 2021 - RHLSTP 329 - Felicity Ward - Ominous Shadows
Richard is delighted that his daughter has drawn him not falling into lava and impressed with listening and viewing figures for his stupid shows. His guest is stand up and actor Felicity Ward. They talk about Australian drama schools with funny sounding names, premonitions of death, a terrible Covid Christmas, how Felicity fell into stand up, regurgitating honey and pissing pearls and why anyone would want a partner who wasn't funnier than them.
Episode 5
02 June 2021 - RHLSTP 330 - Jackie Weaver - Battle of Hastings Nasal Regrets
Richard is lamenting the moments from childhood where you move on from something and can never go back. His guest is the formidable Jackie Weaver, who seems to have proven that she did have the authority over Handforth Parish Council. She reveals the secrets of what was going on at the meeting and how the thing went viral and the consequences for the men who questioned her attendance. But also the songs, panto offers and sketch appearances that have followed. As well as her own podcast where she asks her guests weird and wonderful questions (Where does she get her crazy ideas?). Has Jackie Weaver seen a ghost? Would Jackie Weaver like a ham hand? Does Jackie Weaver like always being referred to as Jackie Weaver? You can find out by listening to this.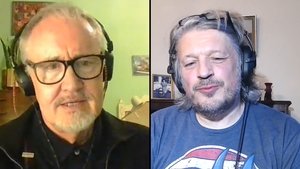 Episode 6
09 June 2021 - RHLSTP 331 - Nigel Planer - Taking the Full Weight of an Eclair
Richard is back in Cheddar trying to harvest material for the new series of Relativity. So it's a double remote podcast and the guest this week is a true comedy hero, the brilliant Nigel Planer. They try to remember what the project they almost worked together in the early 90s was (though have very different memories) and talk about the times Richard spent in Nigel's house, without Nigel knowing. Plus some great stories about the early days of 80s stand up, coming up with characters in Peter Richardson's van, the casting of Mike in the Young Ones and why it might well have turned out for the best, being attacked by security guards on the way to a Greek restaurant after being crushed by a huge prop, the genius of Nicholas Craig, how Do They Know It's Christmas could have been even better, being big in Catalonia and the joy of a rejected script being accepted.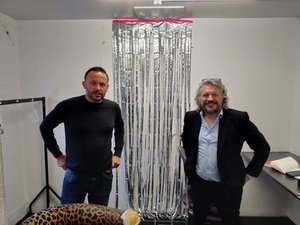 Episode 7
16 June 2021 - RHLSTP 332 - Geoff Norcott - The Problem with Avocados
Rich is overwhelmed to be back on stage in front of an actual audience at the wonderful Clapham Grand. His guest is comedian Geoff Norcott. The pair discuss working with Comedy Dave, the weirdness of the British class system, Geoff's tour of Afghanistan, the limitations of stereotypes in comedy, whether you're allowed to disagree with your tribe and why you should read Geoff's book whether you're Tory or not (and maybe particularly if you're not). Can the left ever win? And is the kudos of being the first person on Mars worth the lonely death.
Episode 8
23 June 2021 - RHLSTP 333 - Sarah Kendall - Only Available Together
Back at the Clapham Grand for a second week and Rich has had another worrying lump - why is his body conspiring against him? His guest is the poo obsessed Australian Sarah Kendall. They discuss Taskmaster lessons and tactics, the laziest magazine article of all time, professional jealousy, the Thames bidet, smiting your foes by cannon, when bucket lists go wrong, the comedy of lying, why stories don't need to be true, the paternity of Clint Eastwood and regurgitating honey.
Episode 9
30 June 2021 - RHLSTP 334 - Jessie Cave - Hermione Hands
Richard has had his manhood challenged at funfair and is planning to rewrite history. His guest is actor, author and artist Jessie Cave. They discuss acting based eye infections, upsetting Emma Watson with noodle recommendations, Podcasting with your sibling, exposing your heart in stand up and coping with tragedy and assault. Plus is it possible to publish a novel without ever writing it?
Episode 10
07 July 2021 - RHLSTP 335 - Johnny Vegas - The Face of Hobnobs
Richard is the proud owner of an exercise machine and also tries out crowd work for the first time in over a year. What can possibly go wrong? His guest was held up on the motorway, but he's here now, it's Taskmaster loser, Johnny Vegas. They chat about Johnny's unexpected move into glamping, the famous gibbons of Malta, why you don't ask Vegas to advertise shampoo, whether success damages the Vegas brand, why his mum preferred biscuits to stand up and returning to the stage after a break and working how much Johnny and how much Michael to put into it. Plus bridges! What are they all about?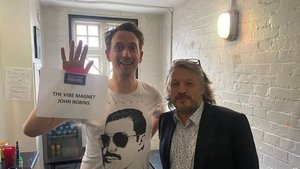 Episode 11
14 July 2021 - RHLSTP 336 - John Robins - Watching Brian May Have Sex
Richard has had his audience analysed and you won't believe how many of them come from the Vatican City. No matter. His guest costs £43.50 on Cameo and is called John Robins. They chat about their chances of making money in the boxing ring, appearing in a comic, being unnecessarily informed about the bad response to your material from a comedy herol, the lights going out in a dying cat's eyes, apples versus conkers, creating your own pub and coming back to stand up (or not) after lockdown. Plus an all important rowing machine report and how Richard plans to make cancer regret ever tangling with him.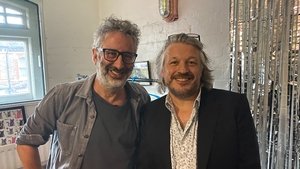 Episode 12
21 July 2021 - RHLSTP 337 - David Baddiel - Thirty Years of Thirty Years of Hurt
Richard has somehow managed to not damage his son during a week of solo parenting, but only just, but he's had an experience that sums up the British holiday experience. His guest will reveal which animal he would prefer to have a conversation with, it's David Baddiel. They talk about failing to get your expenses back from your comedy heroes, why Richard Herring is the funniest person that could lose a nut, whether it's time for a follow up to Three Lions, nostalgia comedy, dealing with trolls - the short game and the long game and Googling zipper accidents
Episode 13
28 July 2021 - RHLSTP 338 - Isy Suttie - Papier Mache Penguin
Richard's phone is trying to make his life a lot more interesting and Richard is concerned about his stinky sweat, but luckily his guest, Isy Suttie, is socially distanced and safe. They talk about her fabulous podcast The Things We Do For Love and the crazy stuff we all do to try and get people to love us and to stop them not loving us any more, how Isy can get people to open up, even if they are giving her a smear test, throwing coins at Jason Orange, being naughty in parks and Isy's wonderful new novel Jane is Trying Plus having a face made for Wallace and Gromit, vague net worths and why Isy won't be sharing a car with Jimmy Carr.
Episode 14
04 August 2021 - RHLSTP 339 - No Such Thing As A Fish - I Don't Want To Go Back To Clown School
Richard's daughter has proven that she is definitely funnier than him, but he's cool with that. His guests are too. They are Andrew, Anna, Dan and James from No Such Thing As a Fish. They've come armed with some wince inducing mono testicle facts to help ease Rich into his new reality, but also discuss Aphanatasia, the time to penis spreadsheet, staging burglaries, Alan Alda, Anneka Rice's head, Margaret Atwood's mechanical arm and too many other weird and wonderful facts to mention here.
Episode 15
11 August 2021 - RHLSTP 340 - Robin Askwith - Oxo Mum Meets Han Solo
Richard is wondering about the photo that will accompany his obituary, but not in a morbid way - he's a lot fitter than he started this run at the Clapham Grand. His guest the incredibly youthful Robin Askwith. They chat about working with giant gorillas, Oliver Reed in a fishtank, imaginative schoolboy pranks, getting shagger's block on the Confessions films, the positive impact of a childhood illness and how in another time Robin might have been a stand up (and how he's making up for lost time).
Episode 16
18 August 2021 - RHLSTP 341 - James Acaster & Ed Gamble - Bobby Davro's Notebook
Richard has been playing I Spy with a 3 year old, and also reveals the cover of his new book, Would You Rather? His guests are the disrespectful young imps from the Off Menu podcast (after Richard was so well behaved on theirs) Ed Gamble and James Acaster. They discuss how many people believed Richard was a competition winner on their podcast - and how the pair have fared with some genuine competition winning guests, Richard's constructive criticism of Off Menu, how Dan Akroyd turned out to be the Brian Blessed of OM, how brilliant a contestant Richard was on Taskmaster and how Champion of Champions is progressing, plus performing comedy on a cruise ship, what Ed's new advertising slogan means and who would be the funniest person to lose a partner to.
Episode 17
25 August 2021 - RHLSTP 342 - Jay Rayner - Hand Carved Penis
Richard is finally in a Norwich for a gig rescheduled several times due to Covid and he has a story about his son's attempts to build on his laughs before possibly going too far, the sky potato doesn't fall far from the tree. His guest is food critic and musician, Jay Rayner. They talk about having a better beard than the Archbishop of Canterbury, whether being a restaurant critic is proper journalism, how restaurants respond to having a critic visit them, expensive suits vs expensive meals, what it's like seeing your mum on Spitting Image, the Norwich severed hand kidney pearls, ceramic hip joints, the demise of Rod Hull, whether we should feel sorry for people who went to public school and whether jazz is worthwhile and how the critic deals with criticism. And what will the restaurant critic make of the ham hand?
Episode 18
01 September 2021 - RHLSTP 343- Matthew Holness - Sit Down Wees
Richard is back in Norwich and has an idea for a new Olympic discipline and gets paid big bucks to finally slag off someone's uncle.. His guest is comedian and horror film maker, Matthew Holness. They discuss whether he is the lost boy of comedy, if growing up in the same town as a horror legend led to his obsession with darkness, the hidden dangers of public information films of the 70s, remembering theme tunes, but not the series, directing a method actor, whether our lives are actually Hell, Jimmy Carr's remarkable memory, the decision to step away from comedy, making the cult hit Garth Marenghi, the amazing cast of Bruiser and being the IT guy on the Office. Plus Sutton Hoo, Pete Townshend lookalikes, another outing for the reverse Peter Kay, impression and beautiful singing. And why would anyone choose to live in Norwich?
---
Crew
| Department | Role | Name |
| --- | --- | --- |
| Department | Role | Name |