---
Ratings
6.4
8.6
---
Series Details
Seasons: 25
Total Episodes: 3408
Creators: Lizz Winstead , Madeleine Smithberg
Networks: Comedy Central
Status: Returning Series
First Air Date: Jul 22, 1996
Recent Air Date: Mar 26, 2020
Run Time: m
In Production: Yes
Original Language: English
Age Rating: TV-14
Website: Link
Production Companies:
---
Genres
---
Keywords
---
People Rated This
None of your friends have rated this title yet
Watch The Daily Show with Trevor Noah
Stream Sources
Purchase (Rent or Buy) this season
Synopsis
No Synopsis for this season yet
---
Episodes
Episode 1
30 September 2019 - Mark Sanford
Roy Wood Jr. reports on President Trump's whistleblower scandal, Ronny Chieng reacts to a viral "beer money" fundraiser, and GOP presidential candidate Mark Sanford stops by.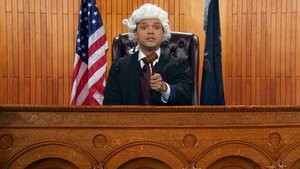 Episode 2
01 October 2019 - Anand Giridharadas
Trevor weighs the case for impeachment against Rudy Giuliani, Michael Kosta explores President Trump's moral blindness, and Anand Giridharadas discusses "Winners Take All."
Episode 3
02 October 2019 - Jacqueline Woodson
Trevor highlights President Trump's unhinged border wall demands, Desi Lydic investigates a protest against Yelp, and Jacqueline Woodson discusses "Red at the Bone."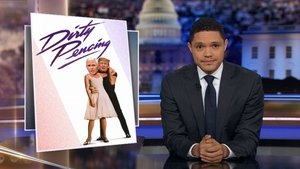 Episode 4
03 October 2019 - Tyler "Ninja" Blevins
Vice President Mike Pence becomes tainted by President Trump's Ukraine scandal, Trevor reacts to Amber Guyger's murder verdict, and Tyler "Ninja" Blevins discusses "Get Good."
Episode 5
07 October 2019 - Chanel Miller
President Trump abruptly pulls U.S. troops from northern Syria, Michael Kosta and Roy Wood Jr. cover sports news, and author Chanel Miller discusses her memoir "Know My Name."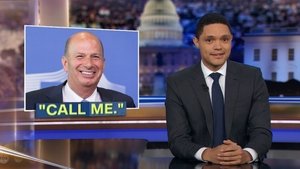 Episode 6
08 October 2019 - Susan Rice
The Trump administration blocks an ambassador's testimony to Congress, Lewis Black highlights the scourge of surprise medical bills, and Susan Rice discusses "Tough Love."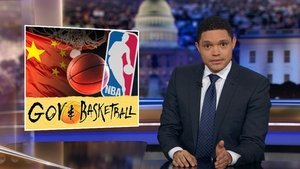 Episode 7
09 October 2019 - Will Smith
China lashes out at the NBA over a team GM's support for Hong Kong protesters, Roy Wood Jr. talks to GOP presidential hopeful Bill Weld, and Will Smith discusses "Gemini Man."
Episode 8
10 October 2019 - Rand Paul
California cuts power to hundreds of thousands to avoid wildfires, Turkey attacks America's Kurdish allies in Syria, and Sen. Rand Paul discusses "The Case Against Socialism."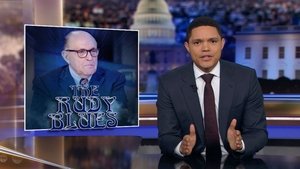 Episode 9
14 October 2019 - Black Coffee
Desi Lydic examines President Trump's Middle East policies, Neal Brennan argues that Trump thinks he owns America, and Black Coffee discusses his musical journey and "LaLaLa."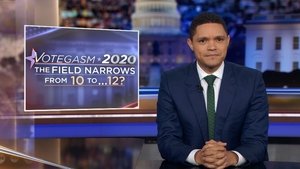 Episode 10
15 October 2019 - October Democratic Debate Special
Trevor dissects the fourth 2020 Democratic debate live, Leo Deblin (Roy Wood Jr.) provides a service to candidates, and CBS News special correspondent Alex Wagner stops by.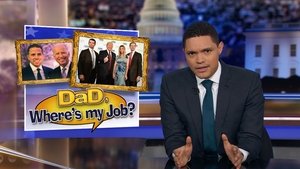 Episode 11
16 October 2019 - Cyntoia Brown-Long & Ali Wong
Trevor looks at how Hunter Biden and the Trump children benefit from their family names, Cyntoia Brown-Long discusses "Free Cyntoia," and Ali Wong chats about "Dear Girls."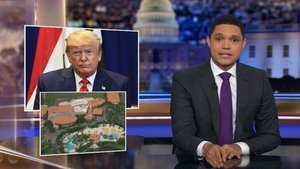 Episode 12
17 October 2019 - Taika Waititi
Trevor tackles the latest onslaught of headlines, Dulce Sloan gives her take on President Trump's impeachment strategy, and director Taika Waititi discusses "Jojo Rabbit."
Episode 13
28 October 2019 - Beto O'Rourke & Michelle Yeoh
President Trump gloats over the death of ISIS's leader, Beto O'Rourke discusses his 2020 White House bid, and actor Michelle Yeoh chats about her role in "Last Christmas."
Episode 14
29 October 2019 - Noname
Roy Wood Jr. reacts to Alexander Vindman's impeachment testimony, Californians flee massive wildfires, and rapper Noname talks about Noname's Book Club.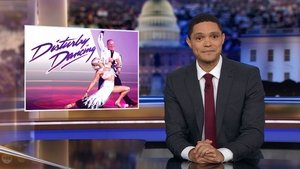 Episode 15
30 October 2019 - Amy Klobuchar
Sean Spicer gets shady for the sake of a "Dancing with the Stars" victory, Ronny Chieng bashes Halloween, and Senator Amy Klobuchar discusses her 2020 presidential campaign.
Episode 16
31 October 2019 - Hillary Rodham Clinton & Chelsea Clinton
Washington Nationals fans celebrate their World Series win, Trevor covers worldwide protests, and Hillary Rodham Clinton and Chelsea Clinton discuss "The Book of Gutsy Women."
Episode 17
04 November 2019 - Colson Whitehead
Drug smugglers cut holes in President Trump's border wall, Elizabeth Warren takes heat from her 2020 Democratic rivals, and Colson Whitehead discusses "The Nickel Boys."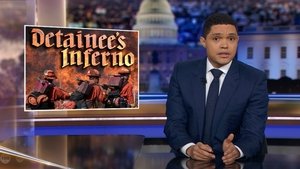 Episode 18
05 November 2019 - Cory Booker & Edward Norton
Trevor highlights California's inmate firefighters, Senator Cory Booker talks about his 2020 presidential campaign, and Edward Norton discusses "Motherless Brooklyn."
Episode 19
06 November 2019 - Julian Castro
Elizabeth Warren terrifies the super-rich, Michael Kosta examines the alt-right's anti-masturbation stance, and Julian Castro discusses his Democratic presidential candidacy.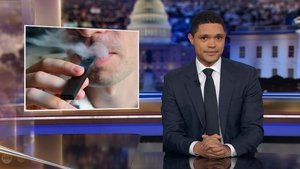 Episode 20
07 November 2019 - Jenny Slate
The vaping industry allegedly targets teens, an expert (Michael Kosta) highlights Donald Trump's iconic posture, and Jenny Slate discusses "Little Weirds" and "Stage Fright."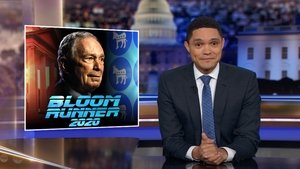 Episode 21
11 November 2019 - Jim Himes & Anna Kendrick
Michael Bloomberg prepares to join the Democratic primary field, Rep. Jim Himes discusses the impeachment inquiry into President Trump, and Anna Kendrick talks about "Noelle."
Episode 22
12 November 2019 - Noah Baumbach
Former Trump administration officials churn out tell-all memoirs, Roy Wood Jr. highlights adorable animals in the news, and Noah Baumbach discusses his movie "Marriage Story."
Episode 23
13 November 2019 - Daniel Kaluuya
No Synopsis For This Episode Yet.
Episode 24
14 November 2019 - Steve Ballmer & Jeff Garlin
Fox News writes off the Trump impeachment hearings as boring, Steve Ballmer discusses his USAFacts initiative, and Jeff Garlin talks about "Jeff Garlin: Our Man in Chicago."
Episode 25
18 November 2019 - Tom Steyer
Diplomat David Holmes adds fuel to Trump's Ukraine scandal, Desi Lydic and Michael Kosta serve up new presidential excuses, and Tom Steyer discusses his 2020 presidential bid.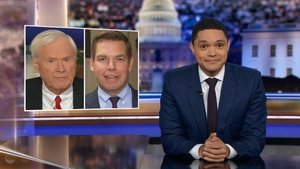 Episode 26
19 November 2019 - Lin-Manuel Miranda
Desi Lydic investigates Rep. Eric Swalwell's alleged televised fart, Michael Kosta and Roy Wood Jr. cover sports news, and Lin-Manuel Miranda discusses "His Dark Materials."
Episode 27
20 November 2019 - Alicia Menendez
Trevor analyzes the fifth Democratic debate live, Roy Wood Jr. gets insight from black voters, and MSNBC anchor Alicia Menendez discusses her book "The Likeability Trap."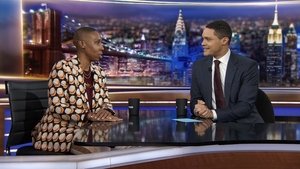 Episode 28
21 November 2019 - Lena Waithe
No Synopsis For This Episode Yet.
Episode 29
02 December 2019 - Mark Ruffalo
Trevor tackles developments in the 2020 Democratic primary, Michael Kosta defends Joe Biden's "No Malarkey" messaging, and Mark Ruffalo discusses his movie "Dark Waters."
Episode 30
03 December 2019 - Ta-Nehisi Coates
President Trump clashes with French President Emmanuel Macron, Roy Wood Jr. gets an education in alternative meat science, and Ta-Nehisi Coates discusses "The Water Dancer."
Episode 31
04 December 2019 - Brittany Howard
Underwater speakers help revitalize dying coral reefs, NATO leaders laugh at President Trump behind his back, and Brittany Howard talks about her debut solo album "Jaime."
Episode 32
05 December 2019 - John Lithgow
Nancy Pelosi calls for drafting impeachment articles against President Trump, Jaboukie Young-White consults with the founding fathers, and John Lithgow discusses "Bombshell."
Episode 33
09 December 2019 - Kelly Marie Tran
Joe Biden loses his temper at an Iowa town hall, Roy Wood Jr. and Michael Kosta cover sports news, and actor Kelly Marie Tran discusses "Star Wars: The Rise of Skywalker."
Episode 34
10 December 2019 - Alfre Woodard & Aldis Hodge
President Trump faces impeachment articles, Lewis Black tackles misguided holiday pandering to Jewish people, and Alfre Woodard and Aldis Hodge discuss their film "Clemency."
Episode 35
11 December 2019 - Lupita Nyong'o
A report exposes official lies about the Afghanistan War, Ronny Chieng investigates body donation, and Lupita Nyong'o discusses "Star Wars: The Rise of Skywalker" and "Sulwe."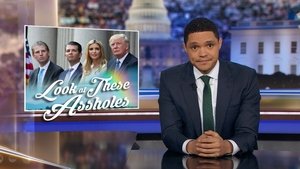 Episode 36
12 December 2019 - Solange Knowles
Trevor highlights Trump family members' rotten behavior, Dulce Sloan examines disheartening workplace studies, and Solange Knowles discusses "When I Get Home."
Episode 37
16 December 2019 - Dan Soder
U.K. Prime Minister Boris Johnson is elected in a landslide victory, Jordan Klepper embeds himself outside a PA Trump rally, and comedian Dan Soder discusses "Son of a Gary."
Episode 38
17 December 2019 - Zozibini Tunzi
The black community faces a mental health treatment crisis, thieves steal millions of delivered holiday packages, and Miss Universe 2019 Zozibini Tunzi sits down with Trevor.
Episode 39
18 December 2019 - Yahya Abdul-Mateen II
Michael Kosta discusses Democrats' mournful approach to impeachment, Ronny Chieng tackles global warming's effects on the holidays, and Yahya Abdul-Mateen II talks "Watchmen."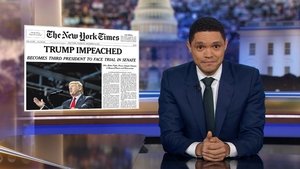 Episode 40
19 December 2019 - December Democratic Debate Special
Trevor covers the Democratic debate live, Jaboukie Young-White and Desi Lydic try a product for overwhelmed voters, and The Intercept's Mehdi Hasan discusses the primaries.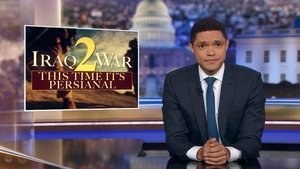 Episode 41
06 January 2020 - Karen Bass
The World's Fakest News Team analyzes President Trump's targeted killing of Iranian General Qassem Soleimani, and California Congresswoman Karen Bass sits down with Trevor.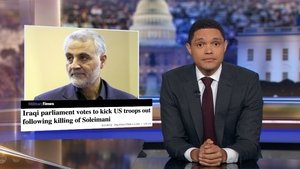 Episode 42
07 January 2020 - Ronan Farrow
President Trump's targeted killing of Qassem Soleimani leads to chaos, Roy Wood Jr. braces for retaliation from Iran, and Ronan Farrow discusses his book "Catch and Kill."
Episode 43
08 January 2020 - Mo Rocca
Michael Kosta gets hawkish on Iran, Trevor reports on new laws taking effect in 2020, and "CBS Sunday Morning" correspondent Mo Rocca discusses his book "Mobituaries."
Episode 44
09 January 2020 - Jimmy Butler
Wildfires wreak havoc in Australia, Jaboukie Young-White visits climate change-ravaged Arizona, and Miami Heat basketball player Jimmy Butler sits down with Trevor.
Episode 45
13 January 2020 - David Alan Grier
Prince Harry and Meghan Markle's "stepping back" creates royal drama, President Trump tweets in Farsi about Iran protests, and David Alan Grier discusses "A Soldier's Play."
Episode 46
14 January 2020 - January Democratic Debate Special
Trevor analyzes the Democratic debate live, Jordan Klepper examines Iowa's role in the primaries, and former GOP strategist Rick Wilson discusses "Running Against the Devil."
Episode 47
15 January 2020 - Yara Shahidi
Nancy Pelosi sends articles of impeachment to the Senate, Ronny Chieng reports on the CES 2020 tech expo, and actor/activist Yara Shahidi discusses her role on "grown-ish."
Episode 48
16 January 2020 - Susie Essman
Lev Parnas implicates President Trump in the Ukraine scheme, Michael Kosta and Roy Wood Jr. cover sports, and actor and comedian Susie Essman discusses "Curb Your Enthusiasm."
Episode 49
20 January 2020 - Mary Frances Berry
The New York Times announces a double presidential endorsement, Roy Wood Jr. covers iffy MLK Day celebrations, and Mary Frances Berry discusses "History Teaches Us to Resist."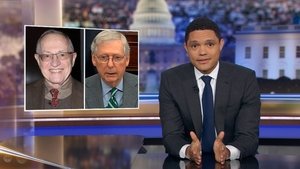 Episode 50
21 January 2020 - BD Wong
President Trump's Senate impeachment trial begins, Michael Kosta weighs in on Mitch McConnell's impeachment rules, and actor BD Wong discusses Awkwafina is Nora from Queens.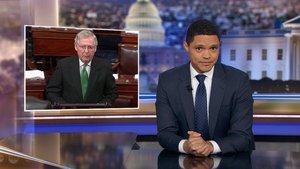 Episode 51
22 January 2020 - Kim Ghattas
Congress members clash at President Trump's impeachment trial, Desi Lydic investigates Arizona's rejection of daylight saving time, and Kim Ghattas discusses "Black Wave."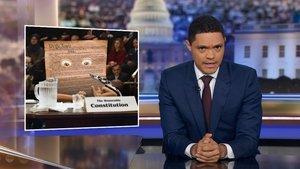 Episode 52
23 January 2020 - Kehinde Wiley
Senators duck out of President Trump's impeachment trial, Desi Lydic reacts to obstacles facing the Equal Rights Amendment, and artist Kehinde Wiley sits down with Trevor.
Episode 53
27 January 2020 - Charles Yu
John Bolton's memoir manuscript complicates the Trump impeachment saga, Desi Lydic investigates the Mars One program, and Charles Yu discusses his novel "Interior Chinatown."
Episode 54
28 January 2020 - Ilana Glazer
Fox News takes aim at John Bolton, President Trump advances his anti-immigrant agenda, and comedian Ilana Glazer discusses "The Planet Is Burning" and "Horny 4 Tha Polls."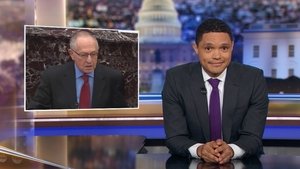 Episode 55
29 January 2020 - Ezra Klein
Roy Wood Jr. reacts to the Trump administration's Middle East peace plan, the impeachment trial enters a new phase, and Vox editor Ezra Klein discusses "Why We're Polarized."
Episode 56
30 January 2020 - Matthew A. Cherry
Legal sports betting could take the U.S. by storm, Neal Brennan examines the GOP's kinky submission to President Trump, and filmmaker Matthew A. Cherry discusses "Hair Love."
Episode 57
03 February 2020 - Daniel Ricciardo
GOP senators reject impeachment trial witnesses, Jordan Klepper meets Iowa Trump supporters, and Formula 1 driver Daniel Ricciardo discusses "Formula 1: Drive to Survive."
Episode 58
04 February 2020 - 2020 State of the Union Special
Trevor and the Daily Show News Team provide live coverage of President Trump's State of the Union Address, and PBS's "Firing Line" host Margaret Hoover analyzes the speech.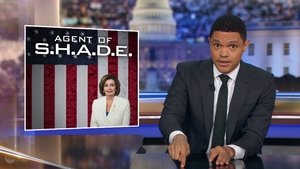 Episode 59
05 February 2020 - Nikole Hannah-Jones
President Trump's impeachment trial ends, Roy Wood Jr. honors unsung black explorers, and New York Times Magazine reporter Nikole Hannah-Jones discusses the 1619 Project.
Episode 60
10 February 2020 - Tochi Onyebuchi
Joe Biden targets Pete Buttigieg with a ruthless attack ad, Ronny Chieng examines the upcoming New Hampshire primary, and author Tochi Onyebuchi discusses "Riot Baby."
Episode 61
11 February 2020 - Wale
Michael Kosta gives his take on the New Hampshire primary, Ronny Chieng rails against coronavirus misinformation, and Wale discusses his album "Wow... That's Crazy."
Episode 62
12 February 2020 - Lakeith Stanfield
Trevor covers the New Hampshire Democratic primary, Ronny Chieng examines Andrew Yang's exercise in universal basic income, and Lakeith Stanfield discusses "The Photograph."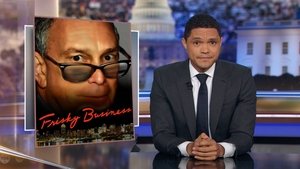 Episode 63
13 February 2020 - Nick Kroll
Michael Bloomberg takes heat for his past defense of "stop and frisk," Roy Wood Jr. expounds on the Chitlin' Circuit, and Nick Kroll discusses his movie "Olympic Dreams."
Episode 64
24 February 2020 - Anthony Mackie
No Synopsis For This Episode Yet.
Episode 65
25 February 2020 - February Democratic Debate Special
Trevor examines the tenth Democratic debate live, Jaboukie Young-White interviews LGBTQ voters about Pete Buttigieg, and Rahm Emanuel discusses his book "The Nation City."
Episode 66
26 February 2020 - Kiley Reid
As the coronavirus puts several nations on high alert, Netflix remains immune to the ensuing Wall Street plunge and face masks become a rare and pricey commodity in the U.S.
Episode 67
27 February 2020 - Jessie Reyez
Trevor covers the coronavirus crisis, Jordan Klepper and Roy Wood Jr. talk to black primary voters in South Carolina, and Jessie Reyez discusses "Before Love Came to Kill Us."
Episode 68
02 March 2020 - Nina Dobrev
Joe Biden pulls off a major primary victory in South Carolina, Roy Wood Jr. gives tips on avoiding the coronavirus, and actor Nina Dobrev discusses her movie "Run This Town."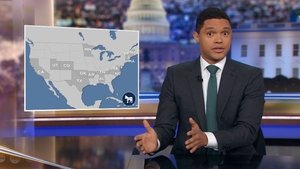 Episode 69
03 March 2020 - 2020 Super Tuesday Primary Special
Trevor and Ronny Chieng cover Super Tuesday live, Desi Lydic interviews an X-rated activist, and author David Plouffe discusses "A Citizen's Guide to Beating Donald Trump."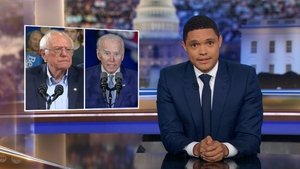 Episode 70
04 March 2020 - Judith Heumann
Trevor gives his next-day analysis of Super Tuesday, Lewis Black rails against the scourge of "sharenting," and activist Judith Heumann discusses her book "Being Heumann."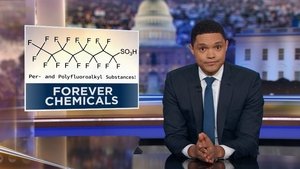 Episode 71
05 March 2020 - Nneka Ogwumike
Trevor examines the "forever chemicals" problem, Dulce Sloan blasts America's lack of statues honoring women, and Los Angeles Sparks player Nneka Ogwumike discusses the WNBPA.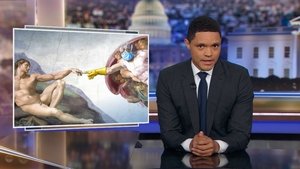 Episode 72
09 March 2020 - Mikki Kendall
Trevor covers the effects of the coronavirus in Italy and the U.S., Jaboukie Young-White offers tips on staying coronavirus-free, and Mikki Kendall discusses "Hood Feminism."
Episode 73
10 March 2020 - Jason Reynolds & Ibram X. Kendi
The coronavirus leads to widespread "social distancing" in the U.S., Trevor unveils Trump's Best Word Bracket, and Jason Reynolds and Ibram X. Kendi discuss "Stamped."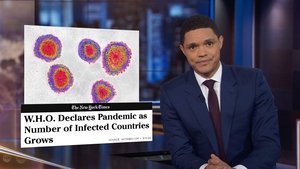 Episode 74
11 March 2020 - Dave Burd a.k.a. Lil Dicky
The WHO declares the coronavirus a global pandemic, NYC Mayor Bill de Blasio talks about the city's response to coronavirus concerns, and actor Dave Burd discusses "Dave."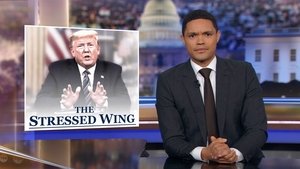 Episode 75
12 March 2020 - Octavia Spencer
The NBA suspends its season indefinitely, President Trump addresses the nation about the coronavirus pandemic, and Octavia Spencer chats about "Self Made."
Episode 76
23 March 2020 - The Daily Social Distancing Show
Trevor covers global coronavirus news, Desi Lydic describes life as a round-the-clock parent, and Roy Wood Jr. and Michael Kosta weigh in on the Trump's Best Word Bracket.
Episode 77
24 March 2020 - DJ D-Nice
President Trump itches for a premature end to social distancing, Michael Kosta gets to know his neighbors via binoculars, and DJ D-Nice talks "Homeschool at Club Quarantine."
Episode 78
25 March 2020 - March 25, 2020
No Synopsis For This Episode Yet.
Episode 79
26 March 2020 - March 26, 2020
No Synopsis For This Episode Yet.
---
Crew
| Department | Role | Name |
| --- | --- | --- |
| Department | Role | Name |