---
Ratings
5.4
5.2
---
Series Details
Seasons: 11
Total Episodes: 242
Creators: Douglas Schwartz , Michael Berk , Gregory J. Bonann
Networks: NBC
Status: Ended
First Air Date: Apr 23, 1989
Recent Air Date: May 14, 2001
Run Time: m
In Production: No
Original Language: English
Age Rating: 15
Website: Link
Production Companies: Tower 18 Productions , GTG Entertainment , Pearson All-American Television , The Baywatch Company , Tower 12 Productions
---
Genres
---
Keywords
---
People Rated This
None of your friends have rated this title yet
Watch Baywatch
Stream Sources
Synopsis
No Synopsis for this season yet
---
Episodes
Episode 1
26 September 1994 - Livin' on the Fault Line (1)
A geological survey team arrives to Los Angeles in order to place an underwater seismometer in the Malibu fault. Stephanie agrees to be their safety officer, because she is in love with the team leader Riley Ferguson. Riley is an expert oceanographer and free-diver. The evening before the diving, Stephanie invites Riley over to her and C.J.'s apartment to discuss the details of the operation. But as their love begins to show, C.J. comes home and when she leaves her room to get a flashlight wearing just a negligee, Riley is definitely distracted. Later things doesn't turn out for the better when Caroline, Stephanie's younger sister, appears at the door. Caroline has left her husband Frank because he cheated on her and now she has come to California to start a new life. Meanwhile, Mitch isn't too happy when Hobie tells him that he will skip junior lifeguards this summer and work on his music instead. When Mitch tries to reason with him, Hobie tells him that he doesn't want to follow i
Episode 2
03 October 1994 - Livin' on the Fault Line (2)
The big earthquake was a 7.2 on the Richter scale. While Stephanie is rescuing Max and Tom on the surface, Riley is trapped underwater under some rocks, Jackie is in big trouble as her trailer is about to go off the cliff and Mitch rescues Hobie in the garage just before the big heavy boat engine is about to fall down on him. Hobie is traumatized after the incident and is determined to leave California. Later when Mitch finds out about Jackie, he and Matt go there in the scarab. But in order to help Jackie, they need some help from Debra Snell a TV-reporter who flies a helicopter. While hanging down from the helicopter, Mitch manages to separate the trailer from the car, and by that save Jackie. Meanwhile, Stephanie risks her life by free diving down to Riley. But she manages to get him loose with the help of C.J, Newmie and Logan who has arrived in the scarab. When the lifeguards are rescuing Riley, Logan cuts a deal with Max. He will receive a sum of money if he can retrieve the seis
Episode 3
10 October 1994 - Aftershock
Hobie has returned from Ohio and Gayle has traveled with him back home. Gayle tells Mitch that their separation hasn't been good for Hobie and therefore she is willing to give their marriage another try. Hobie is very excited when he hears about the wedding-plans and the wedding will be held at the beach with Garner as Mitch's best man. Meanwhile, a fishing boat far out at sea gets an old mine in their fishing-net, and when the mine hits the boat, it explodes. When the lifeguards finds out about it, everyone leaves the wedding ceremony including Mitch. The rescue is successful but when Mitch comes back to the beach, Gayle is nowhere to be seen. He finds her on some rocks and she tells him that she has changed her mind. So the wedding is canceled making Hobie even sadder then he was before. Mitch does his best in order to comfort him. Meanwhile, when Caroline and Logan are out on a wave-runner, Logan is forced to make a rescue. Meanwhile, Caroline is waiting on the wave-runner that is k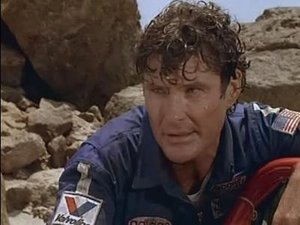 Episode 4
17 October 1994 - Baja Run
John D. Cort comes back to Baywatch and the episode starts with Cort hiding some stolen artifacts behind some rocks in Mexico. Then when the Mexican border police and a man named Jake arrive, they can't find the artifacts and Cort is free to go. Cort left Baywatch a year earlier when he found out he had a degenerative eye disease that causes gradual blindness (Episode #73, Blindside). When Mitch is talking to John at the switchboard, he is surprised to see Cort out on the balcony. When he goes out to say hello, he doesn't know if Cort is blind or not, but he becomes happy when he finds out he isn't. When they are walking on the beach, Cort tries to convince Mitch to enter the Baja run with him. He finally gives in and says yes. When they see a fight in the water, Mitch and C.J. have to stop it and afterwards Cort and C.J. share a kiss, but that's it. Later Mitch and Cort arrive in Baja to meet a friend of Cort's named Al who is providing them with a dune buggy. During the race Cort
Episode 5
24 October 1994 - Air Buchannon
Mitch and Stephanie ponder rekindling their romance during a 24-hour shift at the beach.
Episode 6
31 October 1994 - Short Sighted
After Caroline and Logan complete rookie school, Logan is named ""Rookie of the Year"" and chooses to work at Baywatch. Caroline, still smarting from her break-up with Logan, tells Stephanie she won't be able to work with him. During her first shift, Caroline's distracted by Logan's presence. Despite Stephanie's warning to watch a little girl, Caroline can't keep her eyes off Logan and almost misses a rescue when the girl nearly drowns. After Steph comes to the girl's rescue, a guilty Caroline confesses she missed the rescue because of Logan. Stephanie then decides to transfer Logan to Zuma Beach. Caroline's upset by Stephanie's interference while Logan threatens to sue. Mitch advises Stephanie to not let her personal feelings about Logan interfere with his job ability. Stephanie reconsiders and apologizes to Caroline, saying she'll be her boss when she's on-duty, but her sister off-duty. Meanwhile, Hobie befriends a new junior lifeguard named Carter, who panics when he learns of an up
Episode 7
07 November 1994 - Someone to Baywatch Over You
Mitch works with an FBI agent, posing as a lifeguard, stake-out a dangerous criminal. After Matt rescues a Dutch woman, she intends to repay him with her servitude, which evokes jealous in C.J.
Episode 8
14 November 1994 - K-GAS The Groove Yard of Solid Gold
A radio DJ leads a contest for hidden treasure on the beach, which brings a flood of treasure hunters to the beach- including Matt and C.J. who are swept up in the frenzy.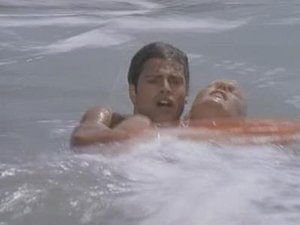 Episode 9
21 November 1994 - Red Wind
The Santa Ana Winds usher in some strange times for the lifeguards as Caroline helps an insane man who swears his daughter drowned in the ocean, while Mitch is tormented by a meek man, whose fiancée remains infatuated with Mitch from a years-ago rescue.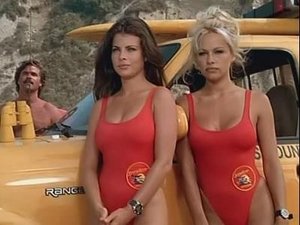 Episode 10
28 November 1994 - I Spike
Matt considers fulfilling his dreams of playing professional volleyball when he's given the chance to partner with a pro. Mitch meets the beautiful Tracy, who tries to sell Baywatch a hovercraft. Garner literally chokes when he tries to sing in public. C.J. protests oil drilling in the bay and the lifeguards must rescue the drillers become trapped underwater.
Episode 11
05 December 1994 - Silent Night, Baywatch Night (1)
As Christmas nears, Mitch and Tracy fall in love. Mitch and Hobie let a lost boy stay with them during the holidays, only to discover he's a con artist. C.J. believes a priest has developed romantic feelings for her. Matt suspects that a group of vacationing little people are really Santa's elves.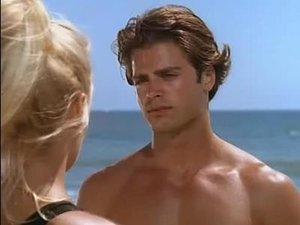 Episode 12
12 December 1994 - Silent Night, Baywatch Night (2)
At Christmas, Mitch tries to reunite Joey with her mother; C.J. worries that a priest is leaving the church for her and Matt investigates whether Santa's elves are really vacationing at Baywatch.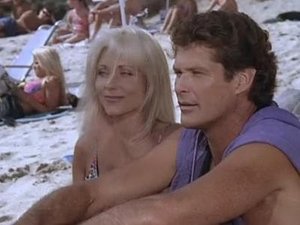 Episode 13
30 January 1995 - Rubber Ducky
Logan and his friend Gator are determined to beat Matt and Barnett in a rubber ducky contest so that Logan can win the cash prize and not have to marry a rich widow to stay in the country. Mitch's new relationship with Tracy comes under the scrutiny of his disapproving mother but Tracy hides a secret from Mitch.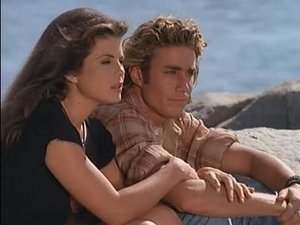 Episode 14
06 February 1995 - Homecoming
Stephanie returns to Baywatch only to become victim of an ultraradical eco-terrorist trying to destroy an offshore oil platform. Mitch makes waves in Garner's relationship with a new lifeguard.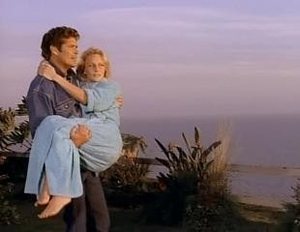 Episode 15
13 February 1995 - Seize the Day
After learning Tracy's dying, Mitch intends to make their last moments together count but tragedy cuts short their time together. Logan and Caroline try to stop a pair of reckless wave runners from cauing harm on the beach.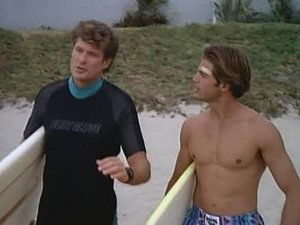 Episode 16
20 February 1995 - A Little Help
In an homage to the movie Sleepless in Seattle, Hobie tries helping his grieving father deal with Tracy's death by calling a radio station for advice, and a woman listener in another city decides to contact them. Caroline rescues a swimmer with AIDS, causing problems between her and Logan.
Episode 17
27 February 1995 - Father's Day
Logan is traumatized by a phobia from his past involving his late father and fire. Mitch discovers that his late father was actually proud of his career as a lifeguard.
Episode 18
24 April 1995 - Fire with Fire
Mitch's friend, a sheriff and part-time lifeguard, causes trouble when he uses strong-arm tactics on the beach. Logan annuls his marriage of convenience, putting his future at in the U.S. and Baywatch at risk.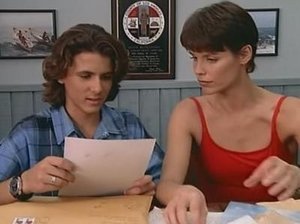 Episode 19
01 May 1995 - Deep Trouble
John D. Cort, returns to Baywatch, homeless and depressed, but finds a purpose for living when the potential donor of a young leukemia victim is reported missing.
Episode 20
08 May 1995 - Promised Land
Caroline tries to help a Chinese immigrant woman stay in America after the woman escapes from an illegal refugee boat. Garner and Matt try to stop a beautiful con artist rip off beach goers when she exposes too much.
Episode 21
15 May 1995 - The Runaways
Kaye hires a an aspiring English pop singer as a waitress and discovers she's a runaway. A daredevil attempts to set a new world's record waterskiing behind a blimp. Stephanie questions Caroline's ability as a lifeguard.
Episode 22
22 May 1995 - Wet N' Wild
A new lifeguard named Neely Capshaw has been transferred to Baywatch from Huntington. She asks if she can work with Matt so that he can train her in basic procedures. In their tower, Neely comes on to Matt but he rejects her telling her about his relationship to C.J. Later when Matt arrives to Neely's tower she is nowhere to be seen, so Matt is forced to rescue a little girl in trouble. Neely is in her tower drinking alcohol. While Matt is carrying the victim to shore, Neely comes to his assistance. When they have performed CPR on the victim, Matt realizes that Neely has been drinking because he can smell it on the victim while he is doing mouth-to-mouth. Matt tells Mitch about it and when Neely finds out about it, she bursts into tears and tells Mitch that Matt sexually harassed her in the tower. Matt becomes furious but there's nothing he can do that proves he didn't do it. Therefore Mitch is forced to suspend him, because Neely plans to sue both the County, Baywatch and Matt. When M
---
Crew
Department
Role
Name
Production
Producer

David Hasselhoff

Executive Producer

Gregory J. Bonann

Crew
Creator

Douglas Schwartz

Michael Berk

Department
Role
Name