---
Ratings
7.5
---
Series Details
Seasons: 8
Total Episodes: 172
Creators: Steven Bochco , Terry Louise Fisher
Networks: NBC
Status: Ended
First Air Date: Sep 15, 1986
Recent Air Date: Feb 6, 1991
Run Time: m
In Production: No
Original Language: English
Age Rating: NR
Website: Link
Production Companies: 20th Century Fox Television
---
Genres
---
Keywords
---
People Rated This
None of your friends have rated this title yet
Watch L.A. Law
Sorry! We currently don't have any streaming links for this tv show yet :(
Check back soon! We add new episodes every day!
Synopsis
No Synopsis for this season yet
---
Episodes
Episode 1
03 November 1988 - Hey, Lick Me Over
Sifuentes represents a couple suing their security company for neglecting to take action when they were assaulted during a home invasion robbery; Van Owen prosecutes a man for unlawful touching when he won't restrain his tongue to his own mouth; Perkins is upset when her annual review paints a dim picture of her future with the firm; Becker is concerned when Melman settles for financial security over love and marries Meyer; after Stulwicz is denied the right to register to vote, Kuzak takes up his case; Kelsey and Markowicz have a discussion about becoming parents.
Episode 2
10 November 1988 - The Son Also Rises
Perkins decides to strike out on her own as a solo practitioner; Becker loses a car but gains a new friend when he agrees to represent Meyer's sister in her divorce action; McKenzie decides to go for broke with Kepler; Markowitz provides the right words to settle a dispute between a father and the son who's suing him for abuse; in the midst of prosecuting a career criminal accused of the murder of two police officers, Van Owen faces a dilemma when she discovers that the testimony of her key witness was obtained illegally.
Episode 3
17 November 1988 - Romancing the Drone
Markowitz gets discouraging news when he visits a fertility specialist; Melman has difficulty adapting to married life and her husband's demands on her attention until she gets some wise advice from Becker; Kuzak takes a pro-bono case from the overloaded public defenders office and ends up defending an accused rapist with a prior rape conviction and a propensity for violence; Becker is frustrated and angry when his client withdraws her complaint and thwarts his hopes of making case law, and Ryan fails to give him the comfort and support he's seeking; Perkins leaves the firm to become a solo practitioner.
Episode 4
01 December 1988 - Sperminator
Brackman sends Perkins a referral who turns out to be dishonest, desperate, and violent; Rollins is initially outraged when McKenzie assigns Sifuentes to second chair on a wrongful death suit, but becomes grateful for the help after he alienates the jury and Sifuentes saves the day, and the case; to help Perkins drum up some business, Becker gives her the gift of a consultation with his publicist; Markowitz is despondent about his chances of fatherhood when an adverse reaction to the fertility drugs forces him to stop taking the medication; Van Owen confesses her struggles over the illegal confession in the Torrey case to Kuzak; Kelsey is angered when Markowitz discusses adoption with Becker without her knowledge.
Episode 5
08 December 1988 - Princess and the Pee
Kuzak faces disciplinary action for not revealing that his opponent in a negligence trial is not a member of the bar; Brackman hires a new associate; still overwhelmed by Holland's death, Perkins reaches out to Van Owen and Ringstrom for help; the Brackmans grieve the end of their marriage as they agree to a financial settlement and prepare to file final divorce papers; Kelsey and Markowicz agree to consider adoption after desperate measures to conceive lead to an embarrassing encounter with an amused Rollins and Sifuentes.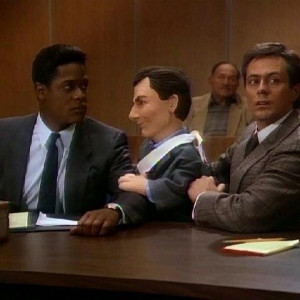 Episode 6
15 December 1988 - Dummy Dearest
Rollins represents a man who, after a devastating childhood trauma, can only talk through a caustic dummy, and is charged with assaulting the police officer who confiscated the dummy after being subjected to a storm of verbal abuse; Becker sets up Kelsey and Markowitz with a baby broker; Kuzak is subpoenaed to testify in the Mathers fraud case; Kelsey represents an actress suing a tabloid for printing lies which caused irreparable damage to her reputation and career; the firm loses a major client after the disciplinary board of the state bar slaps Kuzak with a public censure and a one month suspension.
Episode 7
05 January 1989 - To Live and Diet in L.A.
A death sentence in the Torrey case adds to Van Owen's mounting guilt and propels her to craft a deal which gets Torrey off death row and everyone else off the hook, but the desire of some police officers to avenge one of their own leads to Torrey's murder soon after his release; Kelsey and Markowitz have their hopes raised and then dashed by an expectant mother; Meyer's pitch of an eight figure income entices Becker to partner up with him on a video marketing Becker's marital law expertise; Perkins and Ringstrom give in to their mutual attraction.
Episode 8
12 January 1989 - I'm in the Nude for Love
Kuzak returns from his suspension to defend the owner of a nudist colony being sued for creating a public nuisance, and manages to turn the damaging testimony of a witness intent on defrauding his client into a bargaining ship that yields the client a financial windfall; Stulwicz is wounded when he misinterprets Gottlieb's gestures of friendship for something more romantic; Sifuentes successfully represents a hospital treating a young woman who's been in an irreversible coma for two years when her parents petition to have her life support terminated.
Episode 9
19 January 1989 - Victor/Victorious
Van Owen snatches defeat out of the jaws of victory when she lets her anger and her ego get in the way during a rematch with an old adversary in the courtroom; Perkins and Markowitz clash over his claim that her cash flow problems have caused her to lose sight of their shared client's best interests; sparks fly between Sifuentes and Gottlieb; Kelsey and Markowitz gain a beautiful new addition to their family.
Episode 10
09 February 1989 - The Plane Mutiny
On his way to Chicago for an important new client pitch, Brackman takes on the airline that refuses to allow him to disembark in the middle of a four hour delay, and phones the firm to get a court order freeing him, which in turn gets him promptly arrested as soon as he sets foot in the terminal for using a cell phone on the plane; Sifuentes hires a beautiful private investigator who doesn't pull any punches in helping him track down an elusive witness; when the partners realize how much money Becker is making on the video, they demand a cut of his multi-million dollar profits; Van Owen is impressed by Sifuentes when they go up against each other in a murder-for-hire conspiracy case, and shocks him when she gives into a whim and shows the depth of her admiration; Brackman emerges victorious twice over when the charges against him are dismissed and he gets the new Chicago business; Melman gets something to think about when she learns how the million dollar profits of Becker's video will
Episode 11
16 February 1989 - Izzy Ackerman or Is He Not?
Perkins and Ringstrom continue their romance and their afternoon trysts; Melman gets arrested and sued after the strains of her diet and her marriage lead her to punch out an obnoxious loud-mouth in her weight loss group; Kuzak is crushed when his failure to perform proper discovery costs his widower client a settlement from the hospital that caused the death of his wife by failing to treat her adequately due to her inability to pay; McKenzie helps a widow retrieve the remains of her late husband after his misidentified body is dissected for research purposes and shipped out to medical facilities across the country; Melman and Meyer visit a marriage counselor; as they leave a restaurant, Kuzak and Van Owen run into Ringstrom -- and his wife.
Episode 12
23 February 1989 - The Accidental Jurist
Kuzak decides that a private trial with a closeted judge is the best way to win to retain his gay client's multi-million dollar endorsement contract with a cereal manufacturer, but when the verdict goes against him, his client is unwilling to seek another trial based on an ex parte statement revealing the judge's bias because it will force the judge out of the closet; Perkins confronts Ringstrom after Kelsey tells her he's married, and ends the relationship after she fakes a reason to visit his house and meet his wife; Meyer and Melman separate after they arrive at directly opposite solutions to their marital problems, but reconcile after Melman is forced to acknowledge some hard truths during a therapy session; the lack of a good nanny brings Kelsey and Markowitz troubles, and their daughter to the office.
Episode 13
23 March 1989 - Barstow Bound
A jealous husband who blames the divorce video for the demise of his marriage abducts Becker at gunpoint and forces him to drive to Barstow and confront his desperately unhappy wife; a corrupt politician dangles an appointment to the federal bench before McKenzie, conditioned on his getting Sifuentes to drop an investigation into the politician's abetting the developer of a federal building in circumventing building codes by using dangerous shortcuts that led to a construction worker's death; Brackman is saddened when he overhears Kuzak, Becker, Kelsey and Markowitz discuss their reservations about his becoming the senior partner when McKenzie departs; Sifuentes' disappointment in his client's decision to succumb to the politician's million dollar bribe to drop the investigation turns to admiration for McKenzie's refusal to compromise his integrity for the seat on the judiciary he so clearly desires; Melman erupts in anger when Meyer points to her attraction to Becker as a source of so
Episode 14
30 March 1989 - Leave It to Geezer
Kuzak is furious when McKenzie benches him as a result of his recent losing streak and assigns an important trial to Sifuentes; after their retirement home freezes their accounts, four octogenarians rob a bank to gain access to their funds, and insist on their day in court, even though Van Owen offers them a very favorable plea bargain; in his first murder trial, Rollins utilizes his intuition and some good advice from Kuzak in representing a battered woman who admits to murdering the abusive husband who threatened to kill her; in the wake of his anxiety attack, McKenzie decides that the age difference between him and Kepler is too great, and ends the relationship; after he helps Becker arrive at a settlement between a studio and an actress who wants to be released from her contract, Kuzak succumbs to the thespian's charms following a late night celebratory dinner.
Episode 15
06 April 1989 - The Unbearable Lightness of Boring
Kelsey and Markowitz are devastated when Harris changes her mind about the adoption; Melman decides to file for divorce; Rollins hires an attractive new summer intern; the lure of a potential high six figure income leads Perkins move the focus of her practice to representing drug dealers; Kuzak and Van Owen argue about their relationship; the partners quickly regret it when their criticism of Brackman's managerial style prompts him to resign as managing partner, and are greatly relieved when he agrees to their entreaties to return to the job.
Episode 16
27 April 1989 - His Suit Is Hirsute
Although Sifuentes wages a valiant battle in court on their behalf, Kelsey and Markowitz are ordered to return their daughter to Harris; when the federal prosecutor can't beat Perkins in court over in the Weiland case, he retaliates by having her arrested on bogus charges; Kuzak is forced to put on the gorilla suit again to win a case in civil court against an opponent whose trial strategy is to sing and dance his way to a lighter judgment against his client; Rollins offers his legal expertise when Moses files for divorce; Van Owen decides to take a break from her relationship with Kuzak.
Episode 17
04 May 1989 - America the Beautiful
Van Owen prosecutes a homeowner who killed a homeless man going through his garbage; against Kuzak's advice, Perkins decides to testify before the grand jury, where she hands Flaherty yet another stunning defeat; Meyer hires a high powered attorney who successfully argues a motion that prevents Becker from representing Melman if the divorce goes to trial; Stulwicz plays a pivotal role in winning new business for the firm and gains a new friend in the process; McKenzie asks Perkins to return to the firm.
Episode 18
11 May 1989 - Urine Trouble Now
Sifuentes represents a brewery owner who's being forced out of business by vicious rumors spread by a racist competitor; hip hop meets doo wop when singing groups battle it out in court over trade name and performing rights; after duking it out in heated depositions, Becker and Ganz work out a settlement in Meyer vs. Melman; Moses puts the brakes on Rollins, both professionally and personally; Perkins skillfully renegotiates her return to the firm; a heartbroken Meyer finally accepts that his marriage is over.
Episode 19
18 May 1989 - Consumed Innocent
A cocky talk show host who's sure he won't be convicted and is eager to use the publicity surrounding a trial to boost his ratings refuses Van Owen's plea offer of one year's probation for soliciting his audience members to commit an assault on a guest that proved fatal, and is stunned when he is found guilty and realizes that Van Owen's recommendation will send him to prison; Melman flirts with the idea of retirement after she receives her divorce settlement and Markowitz creates her financial plan; Gottlieb begs the assistance of a flu-stricken Sifuentes in containing the threats of multiple lawsuits after a pot-belled pig is eaten by a snake on the set of the already over-budget rock video she's shooting, and the snake also dies after one of her crew members tries to save the pig; worried that the relationship that's developing between Stulwicz and his daughter is moving too fast, Hackett unsuccessfully attempts to end it; Kelsey finds out that she's pregnant.
---
Crew
Department
Role
Name
Writing
Writer

Sarah Woodside Gallagher

Tom Fontana

Michele Gallery

Judith Parker

Production
Producer

Mark Tinker

Gregory Hoblit

William M. Finkelstein

John Masius

Don Behrns

Robert Breech

Alan Brennert

Carol Flint

James C. Hart

Elodie Keene

John Hill

Alice West

Michael M. Robin

Michele Gallery

Phillip Goldfarb

Scott Goldstein

Judith Parker

Terry Louise Fisher

Ellen S. Pressman

Executive Producer

Steven Bochco

David E. Kelley

Rick Wallace

Patricia Green

Department
Role
Name